File Details

File Size
74.9 MB
License
Freeware
Operating System
Windows 7/8/10/Vista/XP
Date Added
September 14, 2022
Total Downloads
17,472
Publisher
XBMC Foundation
Homepage
Kodi
Other Versions
Publisher's Description
Kodi is a free and open source (GPL) software media player and entertainment hub that can be installed on Linux, OSX, Windows, iOS, and Android, featuring a 10-foot user interface for use with televisions and remote controls. It allows users to play and view most videos, music, podcasts, and other digital media files from local and network storage media and the internet. Our forums and Wiki are bursting with knowledge and help for the new user right up to the application developer. We also have helpful Facebook, Google+, Twitter and Youtube pages.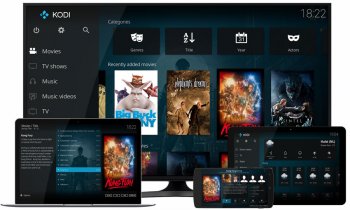 View Full-size
Latest Reviews
gsteele reviewed vv20.0 Alpha 3 (Nexus) on Sep 15, 2022
Wow, just what we need, another media player
stevvie reviewed vv19 "Matrix" Release Candidate 1 on Jan 18, 2021
Used to be my goto player but unless they change Version 19 then almost all my addons stopped working.
Aegis69 reviewed v19 "Matrix" Beta 1 on Nov 18, 2020
Lol just try and get the youtube plugin working, I dare you. What a garbage piece of software this is. Use Plex if you need to stream things in your house.
bigspud reviewed v18.1 "Leia" RC on Mar 24, 2019
took them 3+ years to finally fix the buffer
Aegis69 reviewed v18.1 "Leia" RC on Feb 11, 2019
Doesnt buffer at all anymore, just stutters along 1 bit at a time making viewing anything streaming impossible. And now that they successfully shut down ALL the plugins, this software is completely useless. Avoid.

#trump4prison
ronnieleek56 reviewed v18 "Leia" Alpha 3 on Aug 2, 2018
Aegis69 should be banned for not being a trump supporter and should be banned from this site forever.
CyberDoc999 reviewed v17.5 "Krypton" on Oct 23, 2017
buffers perfectly
Aegis69 reviewed v17.5 "Krypton" on Oct 23, 2017
Doesnt buffer worth a crap anymore, instead of pausing and waiting for a cache till fill up, it just stutters along which is useless. Been like this since version 16
some guy reviewed v17.0 on Feb 2, 2017
A great windows media center alternative! with a lot of features to keep you busy, if you have a tv tuner card it will support that to though the configuration for your tv tuner card can be a little overwhelming , really wish it was a little simpler in that aspect but a great free program give it a try !
r4dius reviewed v17.0 on Feb 2, 2017
In reply to CyberDoc999,
yeah like adding artefacts to a video is the perfect thing to do ...