File Details

File Size
0.9 MB
License
Open Source
Operating System
Windows (All)
Date Added
September 16, 2016
Total Downloads
21,531
Publisher
Ville Mikael Turjanmaa
Homepage
MenuetOS
Publisher's Description
MenuetOS is an Operating System in development for the PC written entirely in 32/64 bit assembly language. Menuet64 is released under License and Menuet32 under GPL. Menuet supports 32/64 bit x86 assembly programming for smaller, faster and less resource hungry applications.
Menuet isn't based on other operating system nor has it roots within UNIX or the POSIX standards. The design goal, since the first release in year 2000, has been to remove the extra layers between different parts of an OS, which normally complicate programming and create bugs.
Menuet's application structure isn't specifically reserved for asm programming since the header can be produced with practically any other language. However, the overall application programming design is intended for 32/64 bit asm programming. Menuet programming is fast and easy to learn. Menuet's responsive GUI is easy to handle with assembly language. And Menuet64 is capable of running Menuet32 applications.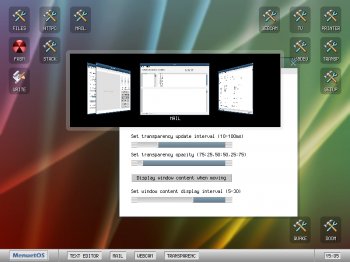 View Full-size
Latest Reviews
kbsoftware reviewed v0.85 on Oct 6, 2007
It's been a while since I've used MenuetOS, very nice but the OS is going the way of the dinosaur really fast since who still has a floppy drive, they don't come with most new computers now-a-days, and it's hardly worth spending the money for one just for MenuetOS.
So a bit of a rethink is needed.
guti reviewed v0.85 on Oct 6, 2007
The MAZZTer, are you rating Virtual PC, and QEMU, or Menuet?
yountmj reviewed v0.85 on Oct 5, 2007
This is quite simply a fantastic example of what can be accomplished with highly-optimized and efficient assembly coding.

I've been following the progress of this OS for a while, and it still amazes me what it is able to do for such a small size.

The 64-bit version is available on the author's site, as well as a CD that can be ordered which contains additional 64-bit applications.
ModderXManiac reviewed v0.84 on Apr 19, 2007
Fantastic OS; I actually had a dream for building a very functional floppy-disk-sized operating system, but it appears that someone beat me to it!

Really cool; of all other OS's of it's size, this takes the cake.

CarlK, I used RawWrite to put the image on a floppy, it's the best app I know of for this purpose.
CarlK reviewed v0.84 on Apr 19, 2007
1.Too BIG for a floppy. 2.How to use an .IMG file? 3.Can't rate yet, but our IT guy told me about it!

allsiante & oubeaver found file size problem.
My PowerDesk Filmanager says the M32-084.IMG is 1,474,560 B. And an empty floppy is 1,457,664 B.
So close.

I have never used an image file. They are sector- by - sector copies using the disk controller/BIOS?

Anyone used Winimage or alcohol 120 to read or write an .IMG?
aredo reviewed v0.84 on Apr 19, 2007
It needs USB drivers support so that it could be booted off of a flash memory on motherboards having the boot option.
The MAZZTer reviewed v0.84 on Apr 19, 2007
Doesn't work under Virtual PC. Virtual PC is forced to reset the VM while it is booting.

It works on QEMU for a few seconds, until it slows to a halt.
Binary Fission reviewed v0.78 pre3 on Oct 5, 2004
Very interesting little OS that fits on a floppy. It'd be better if it didn't require a floppy.

Had no luck with connectivity on an Intel Pro/1000 NIC.

Running under VMware, it appears to freeze up when you first boot it. All you have to do is push Escape when the screen is garbled and then it continues to load. After that it seems to run alright. Unfortunately the whole OS isn't very useful without a decent web browser. The included browser won't even display graphics.
Musashi_Sama reviewed v0.78 pre3 on Oct 5, 2004
Is the best mini-SO ASMbased, when it have hm installation and suport for internet will be a great SO for people that have jurassic machines like me...
LeXTeRiTY_X reviewed v0.78 pre3 on Oct 4, 2004
The best FDD-based Asm.O.S. I have seen. Possibly would attract more people if it could be installed to a partition on HDD, and more apps written for it. Otherwise, a potential development platform.