File Details

File Size
45.7 MB
License
Freeware
Operating System
Windows 7/8/10/Vista
Date Added
May 6, 2022
Total Downloads
9,659
Publisher
Microsoft Corp.
Homepage
Microsoft OneDrive
Other Versions
Publisher's Description
Microsoft OneDrive allows you to keep your most important files safe online with it's Dropbox-like cloud storage application
When you use OneDrive, you'll never be without the documents, notes, photos, and videos that matter to you. Store anything on your SkyDrive and it's automatically available from your trusted devices - no syncing or cables needed.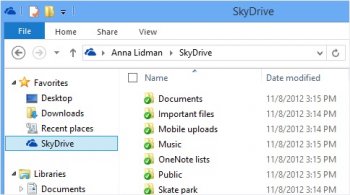 View Full-size
Latest Reviews
Music4Ever reviewed v17.3.5951.0827 on Oct 1, 2015
I used to trust MS but since the advent of spying on Win 7 users & the absolute removal of any privacy on Windows 10 I don't anymore - Most of the times my docs are safe on multiple external drives/ network- OneDrive has its uses but keeping confidential documents or files is no longer one of them.

No such thing as a free lunch remember ~
johnusa reviewed v17.3.1229.0918 on Oct 30, 2014
It is a very practical utility but why have this ridiculous looooooooong version number.
I really despise programs with looooong version numbers.
In my opinion 17.3 or 17.4 is quite sufficient and adequate.
I like it short and simple.
CyberDoc999 reviewed v17.0.4035.0 on Apr 4, 2014
dropbox is still better
mikebray reviewed v17.0.4029.217 on Mar 12, 2014
awesome
Aegis69 reviewed v17.0.2015.811 on Aug 14, 2013
I hope you like the American government having access to all your files in the 'cloud'

Ya good luck with all that.
Dakm4 reviewed v17.0.2006.0314 on Apr 3, 2013
SKydrive is a must for me. I get the space i need and can access my files from any of my computers. Cloud storage that works and is free. I use it to also sync my onenote files and would be lost without it. I can access my onenote files on my laptop, ipad and my phone.
Aegis69 reviewed v17.0.2006.0314 on Mar 19, 2013
You know what microsoft, by not even showing linux on your list of desktop operating systems, it makes you look even more like effing c#nts.
nilst2006 reviewed v17.0.2003 on Nov 22, 2012
For XP use third party SDExplorer : CloudStorageExplorer.com
jp_ext reviewed v16.4.6006 on Jul 23, 2012
@nvic: The fact that you use a stone age operating system and whine about new products not supporting is says a lot about you. No company would be sad to see such customer go elsewhere anyways.

Personally I like the way SkyDrive works in general and the tight integration with Windows 8, Windows Phone and Office 2013 is just fantastic.

This Windows client is good but can become even better.
nvic reviewed v16.4.6003 on Jul 15, 2012
Stopped using skydrive when the client stopped supporting XP.

Moved everything to dropbox and have no complaints. Works on older systems unlike this junk. The more stuff that MS drops XP support for, the less MS stuff I use. I don't have the option of upgrading to Win7 on several of my systems.