File Details

File Size
1,907.5 MB
License
Freeware
Operating System
Windows 7
Date Added
February 22, 2011
Total Downloads
15,704
Publisher
Microsoft Corp.
Homepage
Microsoft Windows 7
Other Versions
Publisher's Description
Microsoft Windows 7 is the next release of the Windows client operating system, built on the secure foundation of Windows Vista and Windows Server 2008. Performance, reliability, security, and compatibility are core tenets of this release as we collect your feedback to meet our engineering goals of making Windows 7 the best-performing and most stable Windows operating system to date. New innovations in the product are designed to augment your ability as an IT professional to better provision and manage increasingly mobile PCs, protect data, and improve both end-user and personal productivity.
For x86 and x64 Systems.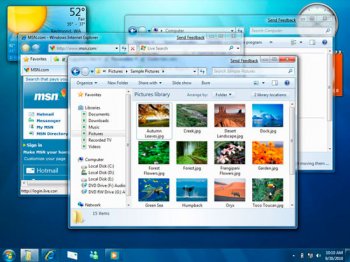 View Full-size
Latest Reviews
nilst2006 reviewed v1 on Mar 1, 2011
I have trouble with the icons down next to the clock, they almost always show wrong icons; enabled network show the icon disabled network, volume show audioservice not running, enabled antivirus shows disabled antivirus....and so on. All shows almost the opposite. Else it worked well.
Ryusennin reviewed v1 on Feb 24, 2011
Lots of fatal errors reported around the net, most of them pertaining to language packs.

As for me, I met a C0190003 fatal error related to the updating of AMD64 components (hint: I have a Core 2) which completely hosed my system. Thankfully (and unexpectedly) System Restore could repair my partition and undo the SP1 installation. Apparently I'm not the only user in this situation.
PaulWilliams reviewed v1 on Feb 23, 2011
It would have been nice if they uploaded the x86 and x64 versions separately instead of together. It was a little more challenging than usual to slipstream the service pack into Windows 7 RTM with Dism, but I figured it out and it completed successfully.
Orbitration reviewed v1 on Feb 23, 2011
It worked fine for me, that is, if you don't count the fact that it kills PCTools Firewall. No more internet access until PCTools is uninstalled.
Then it worked ok.

VERY fast download for a file this size
Razok reviewed v1 on Feb 23, 2011
It installed without a hitch. Though i noticed something peculiar.

When i was useing my multi-monitor. It seemed to not be working correctly.

Now, it worked fine before the Sp 1 update.

Which is why i give it a rating of 4
No problems downloading extremely fast download considering I am over the pond a fair way from MS.

All done & dusted. The size of C:\ was smaller after I had removed the backup that before I installed SP1.
Sven123456789 reviewed v1 on Feb 23, 2011
Failed right off the bat. Typical bs microcrap software.
PatrynXX reviewed v1 on Feb 22, 2011
Might have to try the ISO... update keeps failing.... Microsoft forgot how to deal with a simple SP1.. sheesh
u3912974 reviewed v1 on Feb 22, 2011
linksys_delsol:

iso program you recco has win32/open candy which according to AOL blog:
is "an adware designed to monitor your online activity,software and hardware and relay that information anonymously to another computer (could be a spammer,scammer or in worst case scenario a hacker). If you did online banking or bought a product online while your pc was infected with this adware, you could be..."
I'm sure that betanews and yourself have good intentions. There is so much malware out there. ...T
lilmegz reviewed v1 on Feb 22, 2011
Im all for the ISO releases of a Service Pack for Windows because the best thing about it is that it takes all the "guess work" out if your fixing up to install it on a computer and arent sure of what the OS System Type is!

In otherwords the DVD ISO is the best route to go if you plan to deploy on multiple machines, whether it be now or later down the road.