Publisher's Description
Windows Live Essentials includes free programs from Microsoft for photos, instant messaging, e-mail, blogging, family safety, and more. Get them all in one download and get more done with Windows.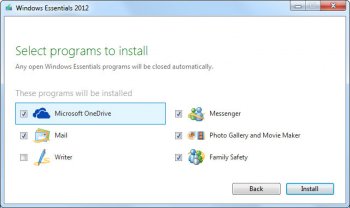 View Full-size
Latest Reviews
ghammer reviewed v16.4.3522.0110 on Feb 20, 2014
Photo Gallery and Writer are two of my favorite apps.
Too bad that Messenger is gone.
some guy reviewed v16.4.3522.0110 on Feb 20, 2014
big ol bloated pile of junk rolled up into one happy instal
CyberDoc999 reviewed v16.4.3508.0205 on May 15, 2013
the photo and movie app does not work with 32 bit windows..... I just use picasa for photos... the mail app works fine but em-client is much better
Music4Ever reviewed v2012 16.4.3503 on Aug 9, 2012
I've used Live messenger & MSN before that since day one & have never had any security issues whatsoever - Live is the best stand alone instant messenger client around by far.

If you have malware problems look elsewhere than live, unless of course you are stupid enough to click on any URL you get sent but that applies throughout the internet, some however get infected because of pure stupidity on a regular basis.

There is a small ad remover & can block or enhance parts of live messenger that works well: Link below -

http://apatch.org/
Bala7 reviewed v2012 16.4.3503 on Aug 8, 2012
v.16.4.3503 is designed to work with Win7 and Win8 only.
For older OS's you should use v.15.4
spikeoscar reviewed v2011 15.4.3555.0308 on Apr 3, 2012
don´t work the chat room
netean reviewed v2011 15.4.3555.0308 on Mar 21, 2012
Live Writer is good, perhaps one of the best offline blogging tools there is. Messenger... meh... it's ok but it just seems to get bigger, more ads, more poxy animated icons that people send me in messages and nothing of any real value.

The main reason I don't use these tools and will never again use these tools, is the security issue. They're not insecure in and of themselves as far as I'm aware. Just having them on your system though makes you an easy target - the amount of people I know who have managed to pick up some malware that exploits their hotmail, their messenger contacts and blogs is just crazy.

Download and enjoy their tools but also expect to pick up some malware soon after
kenny449 reviewed v2011 on Oct 21, 2010
My wife dowloaded this yesterday since it was listed as a critical update or something to that effect. She did call me and check and It did sound to me like something that would need updating to fix a security glitch so I gave the O.K.
I don't apreciate M/S pushing unessential software on unsuspecting users especially when it doesn't work. Three attempts to install the S/W including ONLY installing the mail feature and it would not sent or recieve mail.

I uninstalled it and went back to the Windows Live Mail version from August 2009 and everyting is working again.
giveitup reviewed v2011 on Oct 19, 2010
I was wondering why Windows Update stuck this in the important updates list -- good thing I looked it up. I'm not going to even bother installing this just because I have everything I need already installed on my computer. I don't install anything without doing lengthy research on it and I would recommend people start questioning 'official' Microsoft ANYTHING as well. And for those bashing the most popular operating system, XP, at least most of the bugs have been worked out of it as opposed to the pretty unstable and incompatible Windows 7 where older joysticks (which only have older drivers available) won't even work properly or not at all. I don't use XP anymore but that is because Vista came pre-loaded on my new computer. I don't have any preference myself considering I am quick to familiarize myself with the features and inner workings of any operating system I use and actually enjoyed having to spend 2 months stabilizing my OS after I bought my computer. But others would rather have reliability and not be bombarded with candy coated, re-packaged stuff that are just older programs made to be more annoying and free of any privacy. For those who don't care about that, then go ahead and install it.
yleclerc reviewed v2011 on Oct 4, 2010
Again, Microsoft is forgetting that Windows XP SP3 is supposed to be supported to 2014. New versions are dropping XP before then!!