File Details

File Size
44.8 MB
License
Open Source
Operating System
Windows 2000/Vista/XP
Date Added
April 9, 2013
Total Downloads
32,008
Publisher
Nick Nassar
Homepage
Miro
Other Versions
Publisher's Description
Miro lets you watch Internet videos like you watch TV. Download and watch all the best internet TV shows and videos in one powerful application. New channels arrive daily in the built-in Channel Guide. Stop squinting at tedious web videos-- sit back and watch big, high resolution videos one after another. It's so easy to use that you'll be watching interesting videos in moments.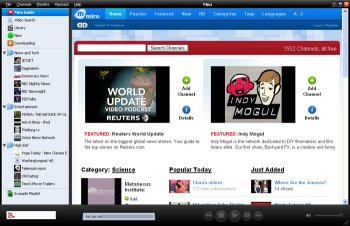 View Full-size
Latest Reviews
wahlburg reviewed v6.0 on May 5, 2013
Find yourself a nice collection of video sources, get Miro's capable download manager to auto-download them (file links, RSS feeds, torrents - whatever!), watch them straight from within the app, and tell me how you lived without this incredible peice of software.

Version 6.0 cuts down on CPU Usage (it's zero when no downloads are taking place), and my cheap-o dual-core Atom (2GB RAM) has no issues running this in the background. The interface is better than before (if a tad clunky) but functionality-wise, this is just plain unbeatable. And it's both free and open-source, to boot!

For podcasts alone, I've paid for apps that do a worse job!

I'm donating.
zxlotusxz reviewed v5.0.4 on Oct 9, 2012
I tried it out and I simply don't see the point in it?
cltx99 reviewed v5.0.2 on Jul 29, 2012
I don't like to be harsh, but this is a piece-o-crap.
tuncerd reviewed v5.0 on May 3, 2012
Cons:
Sound volume is low. It should be boosted as in VLC or KMP.
The interface is amateurish.
The software is laggy and a CPU hog.
Adding podcast/feeds is not simple enough.

Pros:
Cross platform
All-in-one podcatcher.
Miro has potential to be a must-have multimedia app.
keir reviewed v4.0 on May 28, 2011
Terrible memory usage in 4.0 and 4.0.1 when it's not doing anything.
CyberDoc999 reviewed v4.0 Beta 1 on May 3, 2011
looks good
I did not see any Zugo Toolbar
use custom install
do not agree to anything
kbsoftware reviewed v4.0 Beta 1 on May 2, 2011
A bit of a heads up, during installation you have the option to install a search home page, kind of a weird way of wording it but what it actually is, is the Zugo Toolbar. Miro does tell you how to uninstall this sucker even offer an uninstall program to help but you'll find both methods will fail. Zugo is notorious for doing anything they can to keep from being removed from a computer once installed, for that reason in my eyes it's malware.

I rate it a one because I don't dare run anything with the Zugo Toolbar no matter if I have a choice to install it or not.
DoHickey reviewed v3.5.0 on Oct 24, 2010
I rate this a 3 because of the way it's organized.
Would I use it, no. Not after trying it for an hour.
Not enough content.
Zoroaster reviewed v3.0.1 on Apr 14, 2010
I've never been quite fond of podcasts and so on, but that was until Miro. I have to admit that this application is incentive to a cool approach and handling of video (and audio) on the Web. Totally intuitive, elegant, fast. I've discovered channels of all sorts, this is a real passport to pleasure.
Jammerdelray reviewed v3.0.1 on Apr 13, 2010
Love it! They fixed the crash lingering since Vista and it runs very smooth and snappy now. My choice for watching Diggnation, Tekzilla and other shows.

No cons.