File Details

File Size
11.4 MB
License
Open Source
Operating System
Windows 7/8/10/Vista/XP
Date Added
June 21, 2023
Total Downloads
34,613
Publisher
CodeLathe, LLC
Homepage
Money Manager Ex
Other Versions
Publisher's Description
Money Manager Ex is a free, open-source, cross-platform, easy-to-use personal finance software. It primarily helps organize one's finances and keeps track of where, when and how the money goes. It is also a great tool to get a bird's eye view of your financial worth.
Money Manager includes all the basic features that 90% of users would want to see in a personal finance application. The design goals are to concentrate on simplicity and user-friendliness - something one can use every day.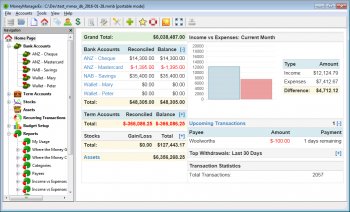 View Full-size
Latest Reviews
reddy.shyam reviewed v1.3.1 on Jan 12, 2017
Getting better and better. Now reports added too.
krgood reviewed v1.2.3 on Dec 14, 2015
Installed program, started config, wanted to have me specify currency,...Dollar was not in the selection list, so tried to add it and was informed it was already installed but did not show..wonder what else is screwed up?? I'll pass!!
mkvplayer reviewed v1.0.0.3 on Mar 25, 2014
good,ths very much
reddy.shyam reviewed v1.0.0.0 on Dec 31, 2013
Best of the free world and is par with paid apps. Kudos to the author.
anonymouscowturd reviewed v0.9.5.0 on Nov 4, 2009
Change log here http://moneymanagerex.sv...mex/runtime/version.txt

Doesn't look like that much really changed. But then for my personal use it is perfect anyway.
nLctr reviewed v0.9.4.2 on Mar 26, 2009
Just trying it and it seems a good start with a long way to go.

Have been a long, long time user of Quicken and Intuit products and there HAS to be something to replace their software. They get worse and worse every year.

Three stars for trying. Hoping this develops into something better.
anonymouscowturd reviewed v0.9.4.1 on Dec 31, 2008
Brilliant piece of software. Probably not as capable as GnuCash. But then it was never intended to be. Nice and simple. Beats the pants off some of the cheaper comercial programs available.
Aegis69 reviewed v0.9.4.1 on Dec 30, 2008
I just love reviews from guys like alcvanamelsvoort, its obvious they either didn't try it, or he has a messed up comp, or he works for a company that has a competing product.

Money Manager is incredibly stable, it would not have gotten as far as it has it it were flaky, a lot of time and effort has gone into this application and it deserves a much better review than that.
alcvanamelsvoort reviewed v0.9.4.0 on Dec 29, 2008
I downloaded and installed this application with high expectations. However, I've never encountered an unstable application like this one and it's no longer on my PC.
n8p reviewed v0.9.3.0 on Jul 31, 2008
For those who want a simple, reliable money manager without the bells, whistles and bloat of MS Money, MMEX rocks. Cross-platform and open source too. Strongly recommended.