File Details

File Size
1.9 MB
License
Freeware
Operating System
Windows 7/8/10/Vista/XP
Date Added
September 7, 2022
Total Downloads
13,386
Publisher
Matthew T. Ashland
Homepage
Monkey's Audio
Publisher's Description
Monkey's Audio is a fast and easy way to compress digital music. Unlike traditional methods such as mp3, ogg, or lqt that permanently discard quality to save space, Monkey's Audio only makes perfect, bit-for-bit copies of your music. Even though the sound is perfect, it still saves a lot of space.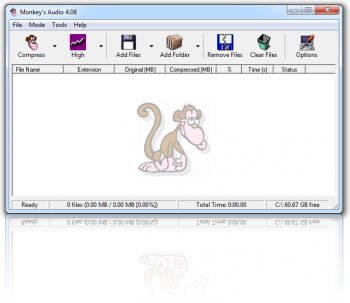 View Full-size
Latest Reviews
oompoop reviewed v4.36 on Oct 20, 2018
Typ:
HEUR/QVM42.1.A621.Malware.Gen
Scan-Engine:
QVM II AI-Engine
Dateipfad:
C:\#Test\MAC_436.exe
Dateigröße:
1.49M (1,562,032 Byte)
Dateiversion:
Dateibeschreibung:
Monkey's Audio Setup
MD5:
f9a7cfc3bffab89a9a88e3d1c017b57b
Vorschlag:
Dateien in Quarantäne

???
FatBastard reviewed v4.12 on Jun 27, 2013
Monkey's Audio achieves better compression than the other lossless formats but is less compatible than FLAC with mediaplayers.
One of the best
Nicky Dallen reviewed v4.06 on Jul 6, 2011
With a little bit of time and effort, Monkey's Audio lets you have "the best of both worlds" as far as quality, restorability, and ease-of-use is concerned (sorry, that should be the best of three worlds!). I like the fact that Monkey's Audio files sound GREAT when played back from my desktop's soundcard into my home Hi-Fi (Denon Amplifier and Speakers, the good quality of which I think speak for themselves). By keping back-up copies of Monkey's Audio APE files on a different hard drive (either as straight copies from one drive to another, or imaged with Powerquest Drive Image), you can be certain of bit-for-bit quality restorations, should the drive with your original WAVs fail.And Monkey's Audio is easy to use, follow the suggested routine for compressing your files (High and Extra High are perfectly acceptable for those of you with audophile ears), and you won't go wrong.

Thanks to Monkey's Audio and Media Monkey (as my audio player) and some spare hard-drives, I'm in the process of re-ripping my CDS and re-building my music library to replace all my 64-bit MP3s. Some CDs will have to be "begged", "borowed" or "stolen" again to do this, or else just left as 64-bit MP3s if Ican't get hold of the originals CDS again, but from now on, Monkey's Audio and Media Monkey will be" the way to go" as far as building up my music library is concerned.

Here's my suggested routine for using Moneky's Audio as a tool for archiving all your music, whilst enabling great quality playback with Media Monkey. I agree it is perhaps "overkill" given that I use three hard dtives, and keep copies of both WAVs and APE files on them, but whenever was prevention never better than cure?

Hard Drive 1/Master Music Library. All CDS are (will be) ripped onto here, and stored as WAVs. I use a combination of CDex or Media Monkey to rip CDs as WAVs, but any other propriety programme which keeps WAVs as 1440 will be fine. Once the WAVs have been copied to Hard Drive 2 and had the Monkey'sAudio treatment on Hard Drive 2, the original WAVs are winzipped,and stay on Hard Drive 1. This hard drive is periodically "imaged" with Poweerquest Drive Image onto Hard Drive 3, as a back-up which can be easily restored, should Hard Drive 1 ever fail.

Hard Drive 2/Music Library Processing. WAVs from Hard Drive 1 are copied onto here (just straight copying of the files) and processed by Monkey's Audio. Once processing/compression is complete, the WAVs are deleted, and the APE files are the ones which will comprise my music library. Copy the processed APE files onto another hard drive, so that you have them as backups to restore from, should Hard Drive 2 ever fail.

Hard Drive 3/Music Library (Media Monkey as my music player). This is the drive on which all my APE music/ Media Monkey playlists will reside. If you ever need to create an audio disk for a friend and they can't play ape files, well just go back to Hard Drive 2 and uncompress the Monkey's Audio APE files back to WAVs, and then use whatever MP3 programme you want to creat an MP3 disk or audio disk so that Windows Media Player (for example) can play them with.

Hey presto! A routine that I'm finding works for me. Hope this helps. For a free programme that some would say "does eaxctly what it says on the tin", I think you'd be hard-pressed to find anything else that offers so much in terms of security. No problems so far, and I think providing you keep your wits about you, and regular backup (straight copying to elsewhere or via an "imaging" programme), you should be able to enjoy your music for many years to come!
anomoly reviewed v4.06 on Mar 18, 2009
Not true, it says 406 (& I run it portably)
Darkman00 reviewed v4.06 on Mar 17, 2009
after installing 4.06 package .. - program still says 4.05
anomoly reviewed v4.03 on Jan 22, 2009
Doesn't much matter, as lossless you can easily unpack (with this) and use flac or whatever compression you like.
JEdwardP reviewed v4.02 on Jan 21, 2009
With WavPack having a better feature set, and TAK now yielding virtually the same compression level at faster encoding speeds, there mightn't be much point in continuing this CODEC. For those who've committed large collections to the format and therefore might find it impractical to abandon, however, it's good to see it rise from the dead.
DG reviewed v4.02 on Jan 21, 2009
What a surprise! The famous program returns from obscurity! Good news.
runningfool reviewed v4.01 Beta 2 on Jul 26, 2007
monkeys audio encoder compresses at about a 5% better rate than FLAC. unfortunately .ape files dont include support for replaygain or multichannel audio. there are also a significant number of reports that monkeys audio files become corrpted at a much faster rate than any other mainstream audio format.