File Details

File Size
24.3 MB
License
Open Source
Operating System
Windows 2000/Server 2003/XP
Date Added
July 6, 2009
Total Downloads
4,473
Publisher
Moon Secure AV
Homepage
Moon Secure Antivirus
Publisher's Description
Moon Secure Antivirus is an opensource antivirus currently using the clamav engine due to fast response time and huge AV database. It aims to be the best Free Antivirus for Windows under GPL license. On access, on Exec scanner and rootkits preventions plus features from Commercial Antivirus applications.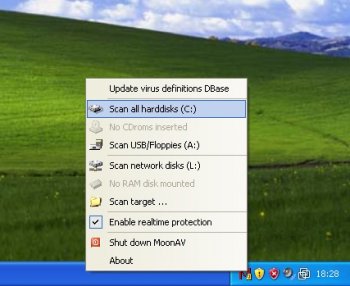 View Full-size
Latest Reviews
Aegis69 reviewed v2.2.2.165 Beta on Jul 6, 2009
Ah what the frick, I'll DLl it and give it a shot. Let you know what I think after.

Update: when running the application uses about 100 megs of ram, seems a little steep. Other than that it seems fine, update worked fine, installed quick, caught the test viruses fine. Just work on the memory issue and this might go somewhere.
anomoly reviewed v2.2.2.160 Beta on Feb 28, 2008
clamwin is not realtime-duhh. Gui is now much cleaner and update process is more robust. Apparently the date is now the current version identifier (previous versions were confounding). For a virus smackdown that's fine by me.
no vista support yet? no, that's fine by me too.
shanepitman reviewed v2.2.2.160 Beta on Feb 28, 2008
Very inefficient and unprofessional. If you're going to use a Windows AV solution that uses ClamAV as it's basis. why not use ClamWin?
imajeff reviewed v2.2.2.158 on Jan 14, 2008
I hope that using clamav makes up for what it lacks in the interface.

- It froze when scanning all files (not ziped). I found it was hanging on "zdone.dat", from Symantec. Renaming the file avoided the hangup. Strange, it must half-way think it's done when given that filename.

- I was afraid by the terrible english in dialogs. Any hacker could mimic that from whatever country!

- I tried to temporarily disable realtime scanning. Obviously there are reasons for this option. Instead, it gave me a dialog saying it is not a good idea, and refused to do what I asked !

+ After uninstalling Symantec AV, it completed a "deep" scan without trouble (though it didn't detect anything). I'm happy then. Of course I also installed w32.clamav.net for completeness.

+ I like the frequent updates.

Overall, I like this product. I hope to see more bug fixes, but I found acceptable workarounds.
godzila reviewed v2.1.1.150 Beta on Dec 19, 2007
portable kasperksy its nice great
DoHickey reviewed v2.1.1.150 Beta on Dec 19, 2007
Good lord, system recovery here I come!
Galifray reviewed v2.1.1.148 on Dec 5, 2007
I gave this little bugger (pun intended) a whirl. I stopped counting the spelling errors at twelve, but that is not the reason for the 2 rating I give it. It may use ClamAV, but it uses it poorly. I could not pause a scan, only abort. Also, it hung up on its deep scan plus archive setting on one of the I386 files. It spent over an hour (yes, I gave it the chance) on just one file, and it wasn't even a large one.
Also, it crashed and wanted to phone home using Outlook Express. I guess I am spoiled by Mozilla which has a built in crash report system.
anomoly reviewed v2.1.1.144 on Nov 4, 2007
I haven't yet rebooted yet but It seems more proficient. love the tray icon and it's very powerful user friendly interface. This seems to be THE awesome ap to protect a pc.
Thanks to all the devs. Open Source is the only way to go (with some goodies thrown in)
had to to give a one on last review cause of the boot prob. I am sure this has been fixed.
I have it set to scan only the exe etc files with heuristic on. love it
anomoly reviewed v2.0.0.139 on Oct 26, 2007
Sad to say but it sucks. Simply because every time you boot it acts as if something went wrong and it pops up and gives a lame message and then you have to close it manually (to tray).
I'll just stick with clamwin. It's not realtime but I aint worried as I have intelligent browsing habits.
Get rid of the "moon secure from space" bs and fix the thing so you can boot correctly. Gui needs some serious work as it is 3rd grader material.
BTW, I scanned a folder and it took almost 2 hours to finish. whatever
spiked reviewed v2.0.0.138 on Oct 18, 2007
2.0 is a disappointment. When 1.0.0.132 was released, we were told that the Vista "workaround" would only be needed until the "next release." Well, the next release came but we're still working around Vista. And don't bother checking CVS for the "open source" because the 2.0 source isn't there. I don't mind the fact that tarballs are not provided, but how can you have an open source "release" without checking the source code into your source control system? The FAQ says "Currently this is a community supported project..." but how can it be supported by a "community" when the source is being kept secret by the primary developer?