File Details

File Size
51.1 MB
License
Freeware
Operating System
Windows (All)
Date Added
February 23, 2021
Total Downloads
1,231,430
Publisher
Mozilla
Homepage
Mozilla Firefox
Other Versions
Publisher's Description
Mozilla Firefox is a free and open source Web browser descended from the Mozilla Application Suite and managed by Mozilla Corporation. Firefox is the second most widely used browser.
To display web pages, Firefox uses the Gecko layout engine, which implements most current web standards in addition to several features that are intended to anticipate likely additions to the standards.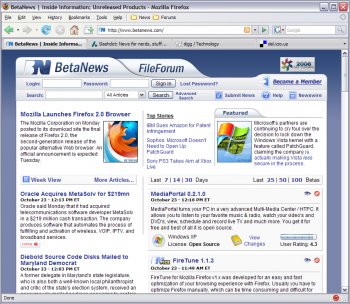 View Full-size
Latest Reviews
Monkey_Punch reviewed v86.0 on Feb 23, 2021
A huge improvement in rendering performance over 85 and earlier versions, especially on my crappy Nexus 5X and old Latitude E6510. When they moved to LLVM 11.0.1, the overall performance boost was tangible. I had my doubts before but it looks like Mozilla is getting back to making FF better and, finally, faster. I don't know how much Rust 1.49 contributed to 86's performance improvements though. Maybe it helped the Android and Apple M1 crowd?
Monkey_Punch reviewed v85.0 on Jan 25, 2021
Yay, they finally killed Flash support. At least doing that reduiced the installer size. Yes, the browser feels snappier than 84 and 83. I can feel they've made strides in improving performance. Very snappy on my crappy old E6510. 86 is going to get an even better performance boost. Things are looking up for Mozilla. Glad the layoffs didn't kill progress.
Aegis69 reviewed v85.0 on Jan 25, 2021
Firefox 85 is out, code name: what did they f**k up this time.
Monkey_Punch reviewed v84.0 on Dec 18, 2020
Can still customize and hack the crap out of it. JavaScript performance on some artificial benchmarks is still down since switching to WARP. Mem use is still lower as well which is great for lower power machines / 32-bit crowd. Let's hope FF85 is all they promised and more with further WARP improvements and better Webrender support for the Linux folks. Mozilla is on a roll so let's hope they don't screw the pooch and do something dumb.
Monkey_Punch reviewed v83.0 on Nov 17, 2020
I can customize and hack the crap out of FF to this day and can't say the same for other mainstream browsers. Can't say I notice much speed improvement on the front end but my machines are Ivy Bridge so maybe a bit long in the tooth to realize the new improvements. Mem use does seem to be lower on my machine so that's always a plus. Still, we have to wait until FF 84 before we can realize Rust 1.47's improvements and FF85 before the rest of what they intended to improve in FF83 (WARP). By then the MASSIVE Rust 1.48 release should be helping improve FF perf. At least I hope.
Monkey_Punch reviewed v82.0.1 on Oct 27, 2020
Feels more responsive on my old machines but a lot of code in FF seems to have prevented LLVM 11's performance boost for being actualized. In fact, perf went down a bit on some artificial benchmarks. It looks like *only* by FF84 will we see Rust 1.47 be pulled in. This will hurt FF numbers, perf and user experience for another 2 months.
Monkey_Punch reviewed v81.0 on Sep 21, 2020
With Mozilla having suffered a huge employee base culling due to Covid sapping the global economy and workforce, it's forced them to really put a finer point on what matter most: a solid, fast browser experience. 80 was a look at things to come. 81 seems to have polished the improvements. 82, I see, has finally switched over to using LLVM 11-rc2....but not Rust 1.46? Come on Mozilla. That would make the Linux folks SUPER happy and help with Android a lot. I guess we'll have to wait until v83.
kstev99 reviewed v80.0 on Aug 27, 2020
Still the most customizable browser, period. Although some customization has been lost with the the XUL extensions now not allowed, It is still my favorite browser.

Everyone seems to be using Google Chrome these days, but I refuse to install Google spyware on my system and use a browser that will not allow a REAL Bookmarks Sidebar
Sven123456789 reviewed v80.0 on Aug 27, 2020
Allot of the minor browsers I have use in the last few years either aren't updated or not compatible with some websites. I've tried all the big boys. Chrome, Edge, Opera, whatever version of IE still exits. I still come back to the mozilla browsers as my main choice. Still have Pale Moon as a backup browser but Firefox is my main browser again.
Monkey_Punch reviewed v80.0 on Aug 27, 2020
It's not perfect and has gone in some questionable directions but it's return to form is welcome. Mozilla sticking to waht works and not trying to reinvent the wheel is a good idea going forward. It's been held back by the fact that LLVM 10 hates it but looks like the prospect of moving to LLVM 11 for v82 is going to be a huge performance win across all platforms. All the work that Martin Stransky did for Linux folks is very welcome. Should only get better from here!