File Details

File Size
12.4 MB
License
Subscription
Operating System
Windows 7/8/Vista
Date Added
November 13, 2014
Total Downloads
4,156
Publisher
Decho Corp.
Homepage
Mozy
Other Versions
Publisher's Description
Mozy is a secure online backup service. It's a simple, smart and economical way to protect your data from hazards like file corruption, accidental deletion and hardware failure. Mozy regularly backs up your files to its secure servers automatically so that you never have to worry about losing important data.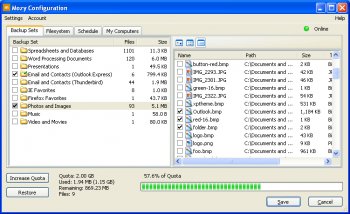 View Full-size
Latest Reviews
nvic reviewed v2.26.4 on Jul 20, 2014
Can't recommend it. Don't use it myself, but as someone who fixes PCs, I have several clients who do/did. In every single case, this software and service failed to perform as advertised.

Here's two failures:

Someone with a dying HDD (spewing SMART errors, windows not booting). After fixing the PC for this guy, he tried to use Mozy to restore his data. It only restored a few hundred MB of files, and all were outdated. Most of his photos were missing. I tried it again for him, thinking he may have done something wrong, but I got the same results. We contacted support, which was useless (automated mails, the reps were nearly useless when we did get a real person) I ended up imaging his old dying drive and getting most of his files out of the image, although he still lost some things.

Another time, I had someone that tried to use Mozy to restore their data after getting hit by some form of cryptolocker knockoff. I removed the malware and tossed the corrupt data. Mozy then restored exactly NOTHING. No backups were ever made apparently, despite it claiming to be backing up weekly. He had only been using the service for a few months. Ended up using his old physical backups on DVD-Rs, which were missing the months since he switched to Mozy's garbage. Support was once again useless trying to explain why the backups weren't there, but did refund him after a lot of arguing. I recommended an external HDD which has worked fine for him since.
zuluwarrior reviewed v2.6.7.0 on Jan 24, 2012
NOT RECOMMENDED. Before you purchase Mozy, you need to be certain to read their TERMS (http://mozy.com/terms) regarding the reliability and use of their software. If the backups are not performed as scheduled with Mozy, they will continue to charge you for their software and storage fees and they WILL NOT take responsibility for lack of performance or make refunds if your backups are not performed. That's the point of having the software, so something users should definitely be aware of.
RJ145 reviewed v2.6.7.0 on Dec 24, 2011
The service the first year was "OK", but still couldn't tell what was being backed up and the software had to be re-installed a few times. At least I had one incident of phone support. The next year Mozy automatically signed me up, so they don't exactly remind you of the expiration date and just charge your card.
The second year was a horror story. After charging me the entire next year up front, Mozy then changed all of its software to something that I couldn't figure out. It was never backing up anything. I must have sent numerous requests for support help, but only got back automated emails, half of which when I responded back had already been marked as "case closed out."
On top of that, I couldn't get the Mozy site to change my email because the page never worked. I had started using an external HD to back up files when I knew I had to have a new OS installed. Worst luck was that it turned out to be defective, but I THOUGHT Mozy might have backed up something. Hah. After downloaded their Restore Manager and downloading files for about a day and a half, all I ended up with was pure gibberish. I didn't even recognize the photos or data files, which seemed to belong to someone else! Unbelievable.
Not trusting my ability, I took my laptop to the local Mac repair center and not one of the competent techs there could find anything from Mozy that had to do with user files. I was furious.
Did Mozy ever respond to my complaints? I got one email from some rep who claimed I had been entitled to phone support. NOT. My second year account stated I had to pay more to "upgrade" just to get that, and Mozy emails claimed I couldn't have that.
What a screwed up service. For all I know, the file downloads I ended up with are hackers in China. Have no idea where my data is. Mozy only knows how to charge your credit card and then not deliver. I'd select ZERO in the rating but it doesn't exist.
Lwalk01 reviewed v2.6.7.0 on Apr 13, 2011
Complete Failure. I've used Mozy for over a year as a backup service. You never know if these things are working correctly until your hard drive crashes. That day came last month and as others have posted, my Mozy backup was 80% garbage, which ultimately makes it 100% trash. Don't risk it, it's not worth it. I went out and bought an external drive so that I know my files are being backed up. I have no personal issues with Mozy, but their service for me was a complete FAILURE.
CyberDoc999 reviewed v2.6.7.0 on Apr 10, 2011
worst company ever
nater-tater reviewed v1.8.0.4 on Nov 27, 2010
BEWARE of the Mozy program!!! I just purchased a new computer and wanted to restore all the files from my old computer onto this new one through Mozy, which it says is so easy to do. Well, most of my files were missing, only restored 600 out of over 6,000 photos!?! After a half hour wait online to speak to a rep.(you can't reach them over the phone unless you have pro), he agreed that there must have been some sort of internet connectivity issue during the backups (never admitted that it could have been a Mozy program error. As I was told by the program every week that the backup was successful. Thankfully my files weren't lost due to a destroyed computer, I was still able to retrieve them from my old computer, but I hope someone else learns from the amount of time I wasted trying to restore files and then the LONG wait for customer service. They did refund my remaining balance. Don't say I didn't warn you.
Bigsoftie reviewed v1.8.0.4 on Sep 29, 2010
MOZY SUCKS! If like me you need good customer support(which should come as standard in all things we purchase) then forget MOZY !! I cannot put into words how frustrated i am. Thanks to Mozy i now need to go on an anger management program.
Mozy is impossible to contact, delibrate i'm sure. A take your money and run kind of company. The upload took 3 weeks and still hasn't completed. It would have been so nice just to send a simple email and promptly get a reply but oh no
Mozy doesn't work that way. I could write forever on how bad the customer support is lets just say imagine the worst and treble it. Problem is it all looks good on the outside, the sales pitch bit but once you've signed up it sucks! I wouldn't even give them one star if i didn't have to. Have since discovered Carbonite has a much better customer support.
gptmusic reviewed v1.8.0.4 on Jul 5, 2010
Mozy online backup stinks all around.

The software stinks - it is not intuitive, and is very difficult to use, and on my machine it did not even work. Also, it fills up you hard drive with temp files - this is completely unnecessary, and there are other backup services that do not do this.

Technical support stinks - they could not resolve my problem and after 45 minutes, I gave up, and then they LIED to me saying they would cancel my account.

Customer support also stinks, as I wanted a refund and cancellation, neither of which I got from Mozy, even after contacting them 8 times in 3 different ways. I even contacted the Better Business Bereau, and they still did not cancel my account. I finally resorted to doing a charge back on my credit card to get my money back and to stop Mozy from billing me every month.

Then I tried Carbonite, and all is well. I am sure there are some other good backup services, buy Mozy totally stinks!
bunchisr@AOL.com reviewed v1.8.0.4 on May 31, 2010
DO NOT, I repeat do not, subscribe to Mozy.com unless you are prepared to be sorely dissapointed , angry, and be ready to pull your hair out. I signed up for this service and Mozy backed up only partial data intially and did not back up months of my most recent data. I lost eveything past the partial initial data when my hard drive crashed. I expected to be fully backed up when my hard drive crashed. In addition, the info that it did store took forever to download. It is very complicated and not user friendly at all. I had to hire IT people to deal with it. In my opinion this is a turtle trying to be a jaguar. It's a total rip off, and I intend to take legal action against this service due to the financial loss incurred from the failure to do what it was supposed to do. Anyone out there like me please contact me or post for a potential class action lawsuit. Find a more reliable system. Mozy is not the one!
xbeatle reviewed v1.8.0.4 on Dec 28, 2008
I pride myself on researching just about every item that I care to purchase. That's why I'm leaving this review. I tried Mozy and to say the least, was disappointed. I couldn't get over the fact that each backup required backing up everything all over again. It took something like 72 hrs. each time. Not only that, the backup would freeze at hour 59, or something horrifying like that. When asked, their customer service guys had no response..."that's the way it is" actually was their response.
Avoid this one at all costs.
Additionally, there is no way to cancel your subscription from their website..unreal! Check it out for yourself if you can't believe it.
I sent a cancel email to the listed support address and never heard back..what a surprise!
Meanwhile, charge conveniently went through

Legal action to follow..avoid at all costs