File Details

File Size
162.1 MB
License
Commercial Demo
Operating System
Windows 7/Vista/XP
Date Added
January 21, 2021
Total Downloads
2,265,886
Publisher
Nero AG
Homepage
Nero Burning ROM
Publisher's Description
Copy and burn high quality CDs, DVDs and Blu-ray Discs. Rip audio CDs and convert music files or even burn DVD-Video, BDMV, and AVCHD compilations and create lasting discs with SecurDisc. With a huge background in professional CD, DVD and Blu-ray Disc burning, Nero Burning ROM supports the largest variety of drives.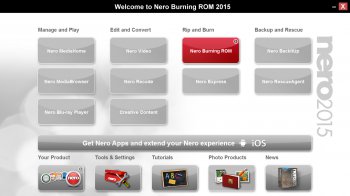 View Full-size
Latest Reviews
Raimondas reviewed v16.0.03000 on Nov 2, 2014
Too high price.
PhredV reviewed v16.0.01300 on Sep 18, 2014
Been way to bloated since Ver, & or so....I'm using a cheaper
alternative that does all I want it to AShampoo decent program....
and half the cost........

Oh, and alliewinters person...you are the
very definition of "ASSHAT."
CyberDoc999 reviewed v15.0.08500 on May 22, 2014
the price is too high and it is bloated
nvic reviewed v15.0.07700 on Mar 19, 2014
Bloatware. I used to love this app back in the 6.x days, but just about everything newer has been terrible.
alister reviewed v15.0.04600 on Mar 12, 2014
Nero use to be good but now it is just bloated. There are plenty of free cd/dvd burning programs out there that are just as good if not better.
BANDIT- reviewed v15.0.07700 on Feb 18, 2014
A massive package for £60 quid... But unfortunately it became defunct in many ways as Open-Source & freeware, much of which requires No Install Crept onto the Net. A useful tool in the package is "Nero InCD" which can be found most Anywhere, FREE.

CD/DvD is a bit of a lost cause now..ONLY 2*
The "Die-Hards" will find NERO useful, but do some research before Paying..!!

Try @Sourceforge .. @Free-codecs .. OR go for a "Top 9" free video..
@http://www.techradar.com/news/software/applications/best-free-video-editing-software-9-top-programs-you-should-download-1136264
OR Top 8 DvD Apps..
@http://www.techradar.com/news/software/applications/best-free-dvd-burning-software-1141938 .

NO. I don't work for Techradar. That's what Google threw up..... Good Luck..!!
Artem S. Tashkinov reviewed v15.0.07100 on Dec 21, 2013
A bloatware perfection
Raimondas reviewed v15.0.03600 on Nov 27, 2013
Nero 15 compared to 12.5 is slightly better because of new features, but on other hand they added some restrictions in Nero recode 2014 (15v.) SD video file max bitrate 2500kbit/sec (even youtube quality is better!!), MediaHome still uses about 6GB RAM after playing 1.5h video file >.< I replaced some Nero sub-applications by other softaware (Ashampoo burning studio, Cyberlink PowerDirector, 4media HD video converter, Arcsoft TotalMedia Theatre), but still can't find multimedia suite to replace Nero by 100%.
Astroburn does everything as Ashampoo burning studio 14 ...
Obren reviewed v15.0.03300 on Nov 26, 2013
Too bloated, if you want a commercial app, try Astroburn.
nvic reviewed v15.0.03300 on Nov 25, 2013
Wow this became bloatware...

I'm still using v6 on XP and v8 on Win7.