File Details

File Size
1.9 MB
License
Shareware
Operating System
Windows (All)
Date Added
August 19, 2016
Total Downloads
23,015
Publisher
DJI Interprises, LLC
Homepage
NewsBin Pro
Publisher's Description
NewsBin Pro is a tool to help you find cool stuff in Newsgroups which are located on Usenet. It will scan newsgroups that you specify for binary attachments and will download and decode these attachments for you. You can then use a picture viewer or a multimedia player to view or play the content you downloaded.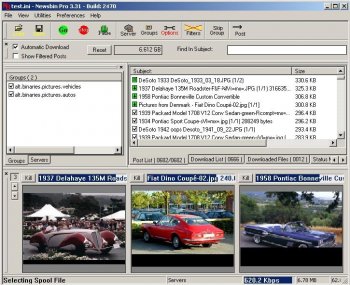 View Full-size
Latest Reviews
Per409 reviewed v5.55 on Jul 12, 2010
After useing this program for over 10 years nothing else can compare with it "i've tried em all" .People who condemn it obviously have no idea how to download from newsgroups!
thebooda79 reviewed v5.0 on Feb 10, 2009
I have used NewsBin Pro so long now I can't remember exactly how long it has been. Over 10 years! The developers continually update their software. Support from the authors and users on the NewsBin forums is second to none. The $35 registration price is beyond fair and includes lifetime upgrades. I have tried many of the other competitors and none come close to NewsBin! Download it, try it, you will love it, then buy it!
radiomaffia reviewed v5.0 on Nov 20, 2008
I do not know why it hasn't been update here to 5.42 (build 8974) but that is where we at the moment I'm writing. Vista support and language support, getting better each new version and is absolutily growing out childstage..I think 35 dollars is worth the money to support this tool and have trust in it, it wil become perfect (www.newsbin.com for the latest version)!For now 4 stars and maybe in the future 5!
kashin reviewed v5.0 on Feb 9, 2008
I've been keeping on eye on this program since v3.xx hoping it would get better. After several years you'd think the developer would take a few days and work on the interface and options layout a little, but no. This thing is a mess and looks as disgusting as it did years ago. I'm sorry, but I'm not about to pay money for something that looks like a 12 year old kid programmed in his parents' basement in his spare time. Aside from that, this program actually got worse when going from v4.xx to v5.xx and introduced new bugs and random crashes. You're better off using a free alternative than paying for this monstrosity.
armpit reviewed v5.0 on Mar 17, 2007
Not the most easy app to setup, really bad settings layout. Worst interface ever, Newsleecher is clearly superior.
comeoffit reviewed v5.0 on Nov 23, 2006
NewsBin works well if you can figure out how to really use it. But the interface is convoluted and confusing, with settings here and there, duplicated, and some not working at all. It's got to be one of the worst interfaces and most confusing pieces of software I've seen. Yet it should be so simple!

Some things are just plain junky as well... Change config directories, for example, and does it prompt you to exit the application so it can move your settings? No, it creates all-new settings, and leaves the old ones just lying around! It doesn't even copy all the settings over, such as the signature database. Weak, really weak.
Conjo reviewed v5.0 on May 2, 2006
Best usenet software so far.

Must confess you need to learn a bit about how to use this application and mabey even read the tutorial to get used of all the options. If you like to use NZB's then you can create a folder where you can save the NZB's and Newsbin will auto download all for you. Excelent software for the user with some skill.

* * * * * thumbs up!
Morningdove reviewed v5.0 on Oct 3, 2005
I have been a Newbin Pro fan since very early v4. This photo shows version 4 which is very different since v5 is a complete rewrite. I don't believe v5 is ready for prime-time. There are too many problems to describe in this short comment, but my main issue is all verisons of the program after v4.22 fail to consider dial-up users. The statis bars and thumbnails are "herky-jerky" and v5 doesn't show the thumbnail until the download has completed.

I won't give up on Newsbin Pro yet, but will continue to use v4 and monitor it's progression for a while. I will stop using the program if the author doesn't eventually consider the needs of the dial-up user.

One last comment, the final issue of v4 is still and probably always remain in beta state.
zridling reviewed v5.0 on Oct 3, 2005
I installed this version for the first time in my life, and within one day it gave me a 10-day nag notice. Whoa. Newsbin Pro seems to be built for speed over convenience, there are lots of buttons inside that just don't work, such as the AutoRAR Refresh button and many keyboard shortcuts that don't perform their operations. Also, you cannot post to a newsgroup with NewsBin Pro — not even a text file! Although Newsbin Pro is easy to configure, I like the smoother and faster NewsLeecher and Xnews for daily usenet.
deadmonkey reviewed v4.32 on Aug 27, 2004
i bought NewsBinPro a few months ago and really wish I hadn't now :(