File Details

File Size
33.6 MB
License
Freeware
Operating System
Windows 7/2000/Vista/XP
Date Added
May 4, 2018
Total Downloads
16,902
Publisher
GB-PVR mediacentre
Homepage
NextPVR
Publisher's Description
NextPVR is a free Personal Video Recorder (PVR) and Media Centre application for Microsoft Windows. At its heart lies the Electronic Programme Guide from where you can watch (and pause) live TV and schedule your favourite shows for later viewing. Relax with a DVD or play back your music, videos and photos stored on your PC or on other devices across your home network. With support for multiple clients (including thin client devices such as the Popcorn hour) you can distribute your media experience around the home. Away from home you can use the web interface to schedule and stream media using a PC or a suitable mobile device.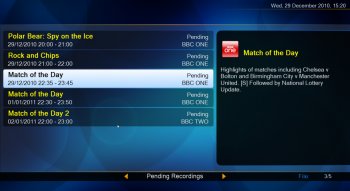 View Full-size
Latest Reviews
Aegis69 reviewed v2.5.9 on Oct 5, 2012
XBMC + 1channel

your welcome
some guy reviewed v2.5.5 on Aug 6, 2012
fails to work with my Hauppauge tv card
AlphaBetaGamma reviewed v2.3.6 on Jan 20, 2012
I have been recording with NextPVR and its predecessor GB-PVR for about 5 years. Some guy needs to read the Wiki.

Version 2.3.6 is the best yet, and works great with HDHomeRun Prime, and a lot of other tuners.
some guy reviewed v2.3.6 on Jan 19, 2012
PVR = personal video recorder
this player does not record it is nothing more then a internet tv player
CyberDoc999 reviewed v2.0.3 on Apr 24, 2011
I compared this to Beyond TV and Beyond TV gets 10 stars
this only gets 2 stars
I guess you get what you pay for
some guy reviewed v2.0.3 on Apr 22, 2011
no video Hauppauge WinTV HVR-1600 - ATSC HDTV / QAM receiver / analog TV
improvelence reviewed v1.0.16 on Sep 22, 2007
tc17...do you not understand what this is maybe? It is PVR software, doing essentially what your DVR box does, your DVR box DOWNLOADS updated channel listings just as this does....it doesnt auto scan your channels. This is actually amazing software, and anyone having trouble using it has not followed the instructions...its dirt simple even without following the instructions. WAY faster than all of the other PVR software I have tried.

You should have to take an IQ test before you are allowed to review on this site.
slinkys_delsol reviewed v1.0.16 on Aug 14, 2007
I have been using this now for 3+ Years as my FREE TIVO and not a complaint.

Using it with a Hauppage WinTV-PVR-150 and it's Flawless.

If you are one having issues, then I would suggest upgrading your Drivers or you simply do not have a card that can support this product.
TC17 reviewed v0.99.12 on Jul 15, 2007
This program looks nice, and something I wanted to work. But like others, I could never get it to work either. For example this is the first tv tuner software I have ever come across that isn't capable of auto scanning for tv channels. That is just lame. You have to download the list from some tv guide type websites.

And my tv card IS on their list.
kornkob reviewed v0.99.12 on Mar 19, 2007
I've been using GB-PVR for nearly two years now. Its a great app with great support. I'd rate it better than most commercial apps.

I'm not surprised the reviewers below failed to get their PCTV100 or WinTV Go-FM cards to work with GB-PVR. Neither of these cards are on supported capture card list. You need a decent card with hardware encoder like Hauppauge PVR150 etc or one of the ATSC or DVB cards.