File Details

File Size
34.6 MB
License
Freeware
Operating System
Windows (All)
Date Added
September 12, 2022
Total Downloads
59,282
Publisher
NirSoft
Homepage
NirLauncher
Publisher's Description
NirLauncher is a package of more than 200 portable freeware utilities for Windows, all of them developed for NirSoft Web site during the last few years.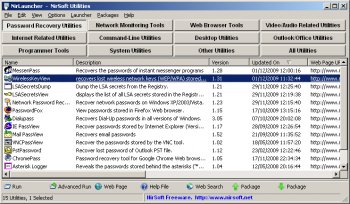 View Full-size
Latest Reviews
KikzAzz reviewed v1.23.39 on Feb 11, 2021
Definitely won't consider downloading it again.
TROLL reviewed v1.20.47 on Aug 4, 2018
NirLauncher is a little part of a big package SyMenu, tons of free useful apps. Also include sysinternals package too.
Uriel reviewed v1.19.113 on Dec 22, 2016
Awesome software. You can do stuff the officials don't want you to do with it so they label it as a virus. It is not a virus but they want to scare you into thinking it is.
BANDIT- reviewed v1.19.103 on Sep 23, 2016
Grab this Package. Strip it Down. Anything Waving Flags.. Wellllllllll.
Do as You Will..!! @noobs. This Is One of the Best EVER packages to
Learn A Variety of Skills. & for the Hardened Crimi... errr I mean Users. Such a Montage of Universal Tools Covering a Wide Range.

Dunno The Specs Req'd Nowadays.. Win/7/8/9/10..??I Still Use XP & Will Do Until a Sensible O/s, Bare Metal, Comes Along.I Clone my Drive Before Any venture on W3. Reg Keys are my Quick Switches.

Win7 meets It's Demise 2019..
Win 10 (free) C'mon.. Updates Ransom-Ware.

NIR.. Enjoy These Freeware Apps.. G'luk

A Superb 5*
Music4Ever reviewed v1.19.56 on Oct 21, 2015
All of his software is free & most of it very useful, he has never used ad's - This guy deserves 5 stars even if you can find petty reasons not to like the launcher.

Before you start knocking stars off read all of this:

http://www.nirsoft.net/about_nirsoft_freeware.html
Timemaster reviewed v1.19.55 on Oct 14, 2015
Following the link on this page results in the following:

---
Forbidden

You don't have permission to access /nirsoft_package_1.19.55.zip on this server.

Additionally, a 404 Not Found error was encountered while trying to use an ErrorDocument to handle the request.
--
Jim reviewed v1.19.34 on May 21, 2015
I love Nir software, but I could do almost the most the same things by downloading and putting them all into a folder.
-1 Star for not having all Nir Apps in it.
-1 Star for not trying to help hide your nir software. 7z or RAR with no compression will hide from most antivirus until you load the software, extracting to run wlll at least disperse the warnings instead of giving you 50 (just making up a number) of warnings at once, and take up almost no extra programming effort. Using a specific folder for that would make adding an exclusion rule easy as it already is (yet still annoying).
-1 Star because if this program was perfect, it would find a way to randomly encode each file differently on install, and avoid all the false positives completely. Perhaps doing this in one database type of file so it's not just an incomplete gui.
==Conclusion: This program is lucky I didn't take off another Star since I could have made the same thing in VBScript using a HTA file, and it would be better then this. Look nicer and be more customizable while friendlier to use at the same time. another 1-2 hours later it would be dynamically pull every app and description on the webpage so it always had everything up to date, if though so chose.
Hilbert reviewed v1.19.31 on May 3, 2015
NirLauncher is continually great software, each utility does what it says it does without any frills.

I have to agree with DrTeeth though, as I've learned from experience there's little point in contacting the developer (Nir Sofer). On the few occasions I've contacted him about a bug or a wish-list suggestion he's never even acknowledged the correspondence.
gavinpesi reviewed v1.19.18 on Jan 20, 2015
Have to agree with the above and thanks for sharing
DrTeeth reviewed v1.18.62 on Jun 12, 2014
Great software. The dev is an unfriendly knob though.