File Details

File Size
38.7 MB
License
Freeware
Operating System
Windows Vista/XP
Date Added
December 21, 2011
Total Downloads
174,821
Publisher
Nokia
Homepage
Nokia PC Suite
Publisher's Description
Nokia PC Suite is a package of Windows-based PC applications developed especially for use with Nokia phones. Depending on your phone model, it lets you synchronize, edit, and back up many of your phone's files on a compatible PC through a wireless or cable connection.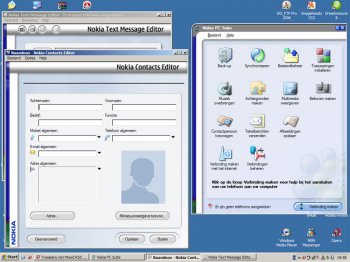 View Full-size
Latest Reviews
outofspace reviewed v7.1.50.2 on Jun 12, 2010
Much better than ovi suite,
beelzebub360 reviewed v7.1.40.6 on Mar 29, 2010
This a good soft & bloat free as in the case of OVi suite
Simple..
Fast..
& Does its job great
tbresson reviewed v7.1.40.1 on Jan 4, 2010
It's bloat! No doubt about it! I can't even begin to wonder why Nokia would make their software even slower than their mobile phones.

The software is in it self ok - really. It does most of the things it's supposed to as supposed to their new version, the Ovi Suite - OMG! More bloat and now stuff that used to be slow here with Nokia Suite simply doesn't work in Ovi. So even though this software is not that good it's better than upgrading right now.

I usually use the file browser with Bluetooth which is slow I know but it worked. The new version of Ovi doesn't even let you take a backup without using a cable. I guess we should be thankful they started to include the cables when you buy the phone - but still.

Ovi is even popping up on your screen when your phone is active. The sucks when you're plaiying a game and you get an sms - or if you're seeing a movie on your computer. But thankfully you can disable the "run on Windows startup" which of course totally makes the feature to autobackup your stuff go to waste.

The backup feature in Nokia Suite is also better because when taking backup with Ovi suite it appears to take all the included stuff on your phone with it aswell. I'm not sure if that's all the samle pictures, ringtones etc. AND the software you downloaded to your phone, e.g. GoogleMaps, Nokia Suite etc. but it simply never ends backing up - not on bluetooth anyway and all this when selecing "phone specific backup".

So all in all I'd say even though this software has gotten quite a bad review you should probably stick with it a while longer. The next generation is not looking better right now.
Trooobador reviewed v7.1.30.9 on Aug 11, 2009
Nokia PC Suite freezes my PC everytime I run the "Get Connected" wizard.
Then I have to do a hard reset. Been trying for 3 days to fix it.
I'm an IT professional with an otherwise stable XP Pro system.
Very frustrating.
sweathog reviewed v7.1.30.9 on Jul 2, 2009
Stupid Nokia music module still won't connect to Nokia server at least with my n85 & firewall disabled. Last good version for me was way back at v6. There's complaints about the version seven's all over the Net. What a way to alienate customers.
al_lea reviewed v7.1.26.0 on Jun 1, 2009
To view the backup flle's content or extract contact, sms, calendars etc from it, you can try Noki at www.nokisoft.com. Noki is a Nokia backup file explorer. The supported backup file formats are:
1. for pc suite 6.5~7.1: .nbu, .nfb, .nfc
2. for SD card: backup.arc
3. for symbian contact database: contacts.cdb
psycros reviewed v7.1.18.0 Beta on Dec 8, 2008
Beta 18 is the worst yet. It demands to update my E62 to add support for "new features", and the phone spits out an an "update error" when I try. Considering that this is the ONLY smartphone Nokia has released on a US carrier for over two years, you'd think they could make it work correctly with their own software - sigh. I hear b19 is out but I can't find it anywhere.
shantanu reviewed v7.1.16.0 Beta on Nov 12, 2008
I missed writing a review for beta 15 ...

* This pile of bloat just keeps on coming doesn't it ?
* The messages problem is still there in beta 15, cannot delete messages.

I really hope they separate the 32 and 64 bit version. 60 MB is no fun to download !!! :(
psycros reviewed v7.1.16.0 Beta on Nov 11, 2008
XX.14 was flaky, the main interface stopped showing any text after a few days of use. xx.15 was utterly non-functional..tried installing several times and it hung the system consistently. Downloading xx.16 right now, praying its a step forward. While 7.xx was a definate improvement over the last release, a few tweaks would make this a much more functional application:

* Please oh PLEASE, Nokia, enable Windows theme support for all parts of the Suite, or release an SDK for skinners. That awful Vista-like interface is hard on the eyes.
* When the PC Suite interface is invoked it usually says its updating messages, but it rarely does so. You nearly always have to click the yellow envelope button to force an update.
* In the Message Centre it would be REALLY nice if contacts could be displayed as "last name, first name". I guarantee if you asked them, 90% of users would want this to be the default. Why should I have to use a search window every time I want to find somebody? Just let me organize my list in a normal fashion! (And that goes for every email program out there).

xx.14 issues:

* Messages: BROKEN. Every time I try to send to a recipient, which worked fine under xx.12, it kicks back a "bad address" error or something to that effect. Even manually entering phone numbers doesn't help.
* Main interface stopped showing any text after a few days of use. All the graphic and animation elements were present, but not a character would show up. Tried rebooting and everything.
shantanu reviewed v7.1.14.0 Beta on Nov 4, 2008
This one does the jobs nicely ... nearly! :( :(
They should change the screenshot, it doesn't look like that anymore !!!
Although the new features of v7 are really nice, the Calender, Messaging, etc, this thing doesn't really delete messages from the phone.
It says "deleted" in the UI, but when I hit refresh, the message is back it the list, it has never been deleted from the phone!!! :( :(

Also, I think the size has doubled because they are bundling 32 AND 64 bit in the same installer .. ACK!!!