Publisher's Description
Norton Security with Backup (formerly Norton 360) is an exclusive mix of technologies that delivers comprehensive antivirus and Internet protection. Insight identifies which files and applications are safe and which are dangerous, using the combined feedback of more than 175 million Norton users. SONAR Behavioral Protection detects signs that a file is dangerous to proactively protect you from never-before-seen threats. Spam Blocking keeps your mailbox free of unwanted, dangerous, and fraudulent emails. Live 24/7 Threat Monitoring is backed by a network of Norton users who serve as your own personal Neighborhood Watch group.
Warns you about social media scams and threats to your personal information. Scam Insight reviews a website's reputation and lets you know if it's safe to enter your personal information. Anti-Phishing Technology blocks fraudulent "phishing" sites set up to steal your personal information. Identity Safe remembers, secures, and automatically enters your usernames and passwords for you, so they can't be lost or stolen. Parental Control feature helps you protect your kids from online dangers by giving you direct access to Norton Online Family. Safe Web tells you if a website is unsafe before you visit it and it's too late. Safe Web for Facebook scans your Facebook wall and news feed for URLs containing security threats such as phishing sites, malicious downloads, and links to unsafe external sites. Intelligent 2-way Firewall prevents strangers from accessing your home network by blocking incoming traffic determined to be unsafe.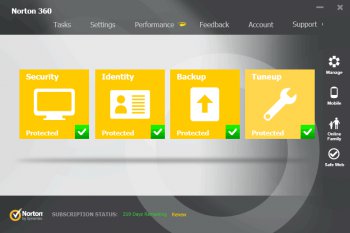 View Full-size
Latest Reviews
truthbetold reviewed v22.17.1.50 on May 7, 2019
Best security suite ever.
fredreed2001 reviewed v20.1.0.24 Beta on Aug 30, 2012
I tried earlier versions of Norton 360 and I must admit that their software has gotten really bad lately. When they came out with Norton Utilities that was a great programs because it was simple but easy to use. Norton 360 is junkware because It uses a lot of memory and I find that there are better programs out there that can do the job far better then norton 360 can.I give norton 360 3 stars only because It has a few good features like easy to install but that's all nothing else.
ecvogel reviewed v2013 Beta on May 5, 2012
I think Norton 360 is very good. I think I prefer NIS because N360 cleans your system without letting you turn that part off.

How I get around the toolbar. When IE asks me to enable them, I say no to the toolbar and yes to the vulnerability one. So I think that gives me protection without the toolbar.
Uriel reviewed v6.0.0.145 on Feb 20, 2012
If Anonymous was able to get the source code, how secure was it in the first place?

Norton products - Ask Search in Norton toolbar. No option to remove and it was pushed by including in a Norton patch.
CyberDoc999 reviewed v6.0.0.145 on Feb 18, 2012
pure junk
Input Overload reviewed v6.0.0.133 Beta on Dec 9, 2011
As I see it the future of AV is the likes of latest Webroot Smart Security, with an install size of 600k & a memory footprint of around 5 meg it is brilliant.

Expect more of this from other AV suppliers over the coming months.

Before you knock it - Try it - I too was cynical.

All signature based AV - Anti Malware are on the way out.
CyberDoc999 reviewed v6.0.0.117 Beta on Nov 6, 2011
only 2 stars..... most people agree this is junk...
yes I have fixed over 10 thousand computers.....
Bala7 reviewed v6.0.113 Beta on Oct 27, 2011
This is far beyond junk. It completely takes over your machine and makes you, the users, a slave to the machine.
HeilNizar reviewed v6.0.113 Beta on Oct 26, 2011
Junk.
war59312 reviewed v6.0 Beta on Oct 10, 2011
Still junk. And yes I tested!

Has always sucked!!! Complete bloatware still!