File Details

File Size
25.1 MB
License
Shareware, $49.95
Operating System
Windows 7/8/10/Vista
Date Added
September 23, 2021
Total Downloads
32,262
Publisher
O&O Software GmbH
Homepage
O&O Defrag
Other Versions
Publisher's Description
O&O Defrag puts fragmented files together and maximizes your network's speed. Defragmentation of large networks becomes easier than ever before: centralized client installation with drag & drop, execution, and scheduling of defragmentation jobs for single computers or free definable groups and much more.
Professional Edition unlocks the hidden Performance of your computer. This software will optimize your hard disk securely repacking fragmented files together for more efficiency. In addition, it boasts outstanding usability and a myriad of important functions not found in any other defragmentation software platforms on the market today.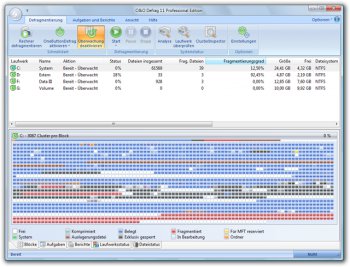 View Full-size
Latest Reviews
Input Overload reviewed v14.5.543 on Jul 6, 2011
Slow compared with Perfect Disc 12. A lot slower.
poisonu reviewed v12.5.351 on Jul 14, 2010
My favourite of the 3 I have (O&O Defrag Pro, Diskeeper Pro, & PerfectDisk).

Regards,
Roberta
jafo818 reviewed v11.6.4199 on Sep 10, 2009
The best defrag app there is. Always has been. I've been using O&O Defrag since version 1.0 (Build 21) back in 1998. I've owned every version since.

Today I'm running O&O Defrag 12, the most powerful version yet.

Long live O&O Defrag!
RWW reviewed v11.5.4101 on Apr 21, 2009
There are none better!
Landsnes reviewed v11.5.4065 on Apr 18, 2009
The best defragmentation application I've used!

I've used this application for a few years now, while checking out other defrag apps at the same time, but none of them works as good as this one. I've tried PerfectDisk, Iobit Smart Defrag and Auslogics Disk Defrag, but the performance gain is always higher with O&O Defrag Pro. Quality German programming. (To any paranoid fileforum users: no I'm not affiliated at all to the O&O software company, nor am I paid by O&O to give this review.)

Well done, developers. full score!
ballyhairs reviewed v11.5.4065 on Apr 1, 2009
Hmmm... its been a while since I saw BSD on my pc, I cant even uninstall it.
nukefixer reviewed v11.5.4065 on Mar 8, 2009
I have used this software for quite sometime, present as well as previous versions and I can report that it works very well for me. I use it at home on my Vista computer thats used for gaming, and my work computer.
I give it 5 stars becuase it works as advertised, and works well.
An outstanding defragger, but for the bugs. I kept having problems with the service not talking to the GUI, or even losing its brains completely, doing nothing.

Poor kids and cheapskates always slam commercial software in favor of half-baked freeware, but it makes no difference.

O&O Defrag doesn't "open online connections" for nefarious purposes. The defrag service talks to the GUI by way of a TCP port. This is a common practice for software that combines a background service with a front-end GUI. It's also mentioned in the help file.

O&O Defrag doesn't slow anything down. In fact, if you enable "AutoSense", it stays out of your face and does its thing without driving you nuts. Compare that to freeware crap that not only requires you to run it manually, but slows your system to a crawl while it runs.
oompoop reviewed v11.1.3362 on Nov 23, 2008
... a lot of whistles, pipes, bells & drums, it may work well, but I don't like proggies installing an online connection.
So sorry, but ...
De Julien reviewed v11.1.3362 on Nov 7, 2008
Slow, extremely dumb, and system respons actually worse than a fragmented drive.