File Details

File Size
71.7 MB
License
Freeware
Operating System
Windows (All)
Date Added
November 4, 2021
Total Downloads
992,310
Publisher
Opera Software
Homepage
Opera
Other Versions
Publisher's Description
Opera Web browser offers the best internet browsing experience available. Discover what over 20 million people have already experienced by downloading Opera's fast and safe internet browsers. Features include Speed Dial, Search Shortcuts, and Trash Can.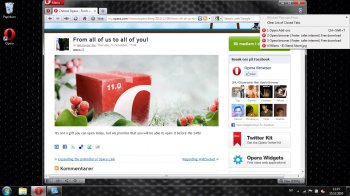 View Full-size
Latest Reviews
BogdanSHA reviewed v70.0.3728.71 on Jul 28, 2020
Stable, whatsapp, fb messenger, instagram, etc. included in the side-bar, youtube video pop-up also included in the browser, good ad-blocker integrated, VPN, latest engine thanks to frequent updates
BogdanSHA reviewed v69.0.3686.77 on Jul 22, 2020
Great browser
some guy reviewed v57.0.3098.102 on Dec 16, 2018
great alternative to Fire Fox and Chrome love the built in VPN ! got to do a little digging to activate it . Good browser has a little more bloat out of the box then I do prefer , but with a little tweaking you can slim it down the built in VPN is great for them youtube videos...
tonyshaw reviewed v56.0.3051.99 on Nov 12, 2018
I'm trying to download Sims 2 but am not sure of a safe site...I haven't found any virus problems reported on FileForum, so I THINK it's safe...
NiBy reviewed v56.0.3051.52 on Oct 18, 2018
Just great
Lsavagejt reviewed v56.0.3051.36 on Oct 10, 2018
Hello, Vivaldi. Goodbye, Opera.
Music4Ever reviewed v55.0.2994.61 on Sep 13, 2018
Brilliant browser, way in front if Firefox & as good if not better than Chrome Love it.
elopez17 reviewed v54.0.2952.60 on Jul 20, 2018
This is now my default browser, faster that Chrome, Firefox and Edge
Lsavagejt reviewed v52.0.2871.97 on Apr 26, 2018
Morningdove, Nice!
Morningdove reviewed v52.0.2871.64 on Apr 20, 2018
Opera has become my default browser after finally giving up on Firefox and testing Google Chrome for about an hour before uninstalling it. The only real concern is the attempted UDP connection each time my bank account password is entered. This possibly nefarious attempt to connect to the Internet is causing me to consider changing to a different browser, possibly Vivaldi. The problem is that using an even less supported browser may cause additional web sites to be non-operational, which is already somewhat of a problem with Opera.

Opera is complete after adding extensions V7 Bookmarks and History, a pdf file viewer and a few others.

ADDENDUM: I have just tested Vivaldi. It is not a replacement for Opera; It isn't even in the same ball game. This is not a review of Vivaldi, only a statement of my opinion when compared to Opera.