File Details

File Size
88.3 MB
License
Freeware
Operating System
Windows (All)
Date Added
October 7, 2022
Total Downloads
992,798
Publisher
Opera Software
Homepage
Opera
Other Versions
Publisher's Description
Opera Web browser offers the best internet browsing experience available. Discover what over 20 million people have already experienced by downloading Opera's fast and safe internet browsers. Features include Speed Dial, Search Shortcuts, and Trash Can.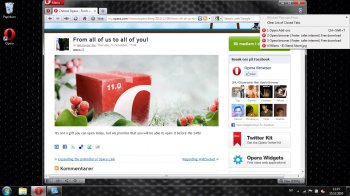 View Full-size
Latest Reviews
aayushkm52 reviewed v91.0.4516.65 on Oct 18, 2022
Someone reviewed v81.0.4196.31 on Apr 4, 2022
After finally abandoning Firefox and testing Google Chrome for about an hour prior to uninstalling it, Opera has turned into my default program. The main genuine concern is the UDP association every time my financial balance secret key is placed. This, perhaps evil, endeavor to interface with the Internet is making me consider changing to an alternate program, conceivably Vivaldi. The issue is that utilizing an even less upheld program might cause extra sites to be non-functional, which is as of now, all things considered, an issue with Opera.
BogdanSHA reviewed v70.0.3728.71 on Jul 28, 2020
Stable, whatsapp, fb messenger, instagram, etc. included in the side-bar, youtube video pop-up also included in the browser, good ad-blocker integrated, VPN, latest engine thanks to frequent updates
BogdanSHA reviewed v69.0.3686.77 on Jul 22, 2020
Great browser
some guy reviewed v57.0.3098.102 on Dec 16, 2018
great alternative to Fire Fox and Chrome love the built in VPN ! got to do a little digging to activate it . Good browser has a little more bloat out of the box then I do prefer , but with a little tweaking you can slim it down the built in VPN is great for them youtube videos...
tonyshaw reviewed v56.0.3051.99 on Nov 12, 2018
I'm trying to download Sims 2 but am not sure of a safe site...I haven't found any virus problems reported on FileForum, so I THINK it's safe...
NiBy reviewed v56.0.3051.52 on Oct 18, 2018
Just great
Lsavagejt reviewed v56.0.3051.36 on Oct 10, 2018
Hello, Vivaldi. Goodbye, Opera.
Music4Ever reviewed v55.0.2994.61 on Sep 13, 2018
Brilliant browser, way in front if Firefox & as good if not better than Chrome Love it.
elopez17 reviewed v54.0.2952.60 on Jul 20, 2018
This is now my default browser, faster that Chrome, Firefox and Edge