File Details

File Size
1.9 MB
License
Freeware
Operating System
Windows 7/8/10/Vista/XP
Date Added
August 3, 2016
Total Downloads
8,148
Publisher
yorkspace.com
Homepage
PC Decrapifier
Publisher's Description
PC Decrapifier is designed to remove a specific list unwanted software in an unattended fashion. Before running, the user may select exactly what software should be removed. Currently, it is targeted for use on most Dell machines; however it will theoretically run on anything that has the software listed below.
Program is free for Personal use.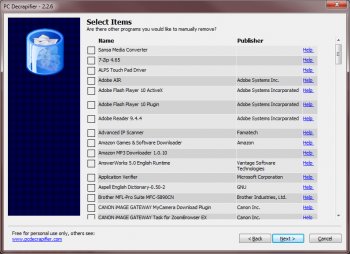 View Full-size
Latest Reviews
BANDIT- reviewed v3.0.0 Beta 1 on Aug 21, 2014
Innounp (x) ... UniExtract (+) ... Portable v @PCdecrapifier.com

Windows System test...............
- Launched
- Check 4 Updates .. (none)
- Next. Blah blah blah
- Next. Warning
- Next. Is this a new PC... (My case = No)
- Next. Restore Point........ (My case = Disabled) .. Using R/Rx
- Next. Select Items.......... Items are Ticked by Default
- Next. Whooooooa.!! ...... ## Press the OK button at your own Risk ##

This App found 3 Items on my System. If I had deleted them,
I would need "PC DeFktUpifier" to Fix It..!!
NOT really lol, But you know what I'm getting at.

Techy's will Recognise Exactly what this App Finds, But any
Noobs who would take the Word of this Proggy's Findings &
Press the Final Button, Would (In most cases) Not have a healthy System.

I won't list what it found on my system, Being as it is Heavily Modified,
But the 3 Objects are Related, & are ALL Kosher (not MS) System Upgrades.
The rest is up to anyone reading the Reviews.

Behalf of Noobs. (Tested) = "No Way Jose" .. Add/Remove is far Safer ... 1*
http://s20.postimg.org/dl25b5p71/DISCLAIMER.png
some guy reviewed v2.2.6 on Jun 4, 2011
good stuff great for when you do a reformat - reinstall of a OEM windows based OS . she call the DE-Bloater :)
Vivek Kowshik reviewed v2.2.6 on Jun 3, 2011
On seeing so many 5 stars, I decided to give this a try. Used Universal Extractor to extract all the files and ran the "portable app" without installing. Can someone tell me what use is this app when all that it can do is remove autorun items, and uninstall applications??? Unfortunately I have already uninstalled everything that I had found useless, for me to try out this feature.

Is there anything that it can do which a full fledged cleaning app such as ioBit Toolbox cannot handle?? Can someone tell me whether this app ever uninstalled anything so cleanly (folders, files and registry entries) as the ioBit utility does???
ZenoLabs reviewed v2.2.6 on Jun 3, 2011
Useful!
war593122 reviewed v2.2.6 on Jun 2, 2011
So sweet, used on hundreds of computers by now to remove crapware.

So much faster than doing a full reinstall of Windows.
Uriel reviewed v2.2.6 on Jun 2, 2011
If only it removed Google Chrome spyware browser I would rate it a five.
Input Overload reviewed v2.2.6 on Jun 2, 2011
Great tool that can save you hours. I think it's a great idea that all new PC's should come with a disc that has printed on it. 'Please Install All This Crap'.
Appmen reviewed v2.2.5 on Feb 14, 2011
You may use PickMeApp. It is also free and can remove your preinstalled applications, and it handles unlimited number of applications. Additionally you may use PicmMeApp to migrate from one windows PC to another
ghammer reviewed v2.2.5 on Apr 13, 2010
@xsnred
So, doofus, you mark this app down because other companies buy position on new machines? Maybe there should be a test before allowing posts here...

Great tool that helped greatly last time I had to recover a Dell.
xsnred reviewed v2.2.5 on Apr 13, 2010
I have a better idea. Why don't the PC vendors just give you a disc with all the crap on it so you don't have to decrapify it! This way they will still get paid by the crappy software companies that pay to have the crappy software installed in the first place! A 1 for the crappy software companies.