File Details

File Size
5.2 MB
License
Freeware
Operating System
Windows 2000/9x/Server 2003/XP
Date Added
August 15, 2014
Total Downloads
53,802
Publisher
CPUID.com
Homepage
PC Wizard
Publisher's Description
PC Wizard is a powerful utility designed especially for detection of hardware, but also some more analysis. It's able to identify a large scale of system components and supports the latest technologies and standards. This tool is periodically updated (usually once per month) in order to provide most accurate results. It is also a utility designed to analyze and benchmark your computer system. It can analyze and benchmark many kinds of hardware, such as CPU performance, Cache performance, RAM performance, Hard Disk performance, CD/DVD-ROM performance, Removable/FLASH Media performance, Video performance, MP3 compression performance.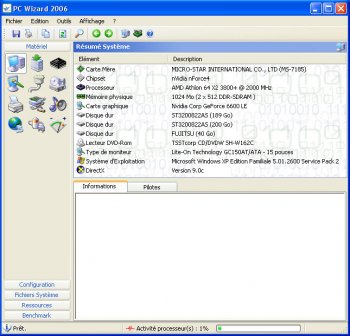 View Full-size
Latest Reviews
TC17 reviewed v2012.2.11 on Dec 4, 2012
Gets a 1 star from me due to the fact of it trying to force you to install a bunch of bloatware spam.

They make the text super tiny so you can hardly read it during the install, and there are a ton of things it wants to install besides the program itself.

Update: after typing this review, I realized thing thing has already installed spam on my computer even though I told it not to during the install. Now I have stupid ads popping on the bottom of my browser windows just viewing the Amazon web page. Stay away from this crap.
dominguez reviewed v2010.1.961 on Apr 26, 2011
Wizard PC is fast and very economical! I wasnt able to pick up my laptop on time and they delivered it to me without a problem. Dont think twice about Wizard PC they are awesome!
Input Overload reviewed v2010.1.93 on Jan 26, 2010
Good program, I replaced Everest with it some time ago. It annoyingly installs the 'Ask Toolbar' even if you tick it not to, which though is easily removed. However as the program is free still 5 stars.
johnk119 reviewed v2010.1.93 on Jan 25, 2010
I've only used it for a few minutes, but so far it seems like a nice useful piece of software
Niksa reviewed v2009.1.90 on Sep 26, 2009
PC Wizard used to be great replacement for Everest Free, best one to be precise. But now, after CPU ID acquired PC Wizard from previous owner, they remove Video Card detection if you do not have driver installed?!?

Since I personally used to use PC Wizard for components detection for PC's I'm repairing and I need Video Card detection or else I have to open PC that I'm repairing, I had to find better solution.

HwInfo32 is program that DO detect Video Card even that you do not have drivers installed. And PC Wizard is not useful any more :( Too bad
niknetpc reviewed v2009.1.90 on Aug 20, 2009
Brilliant! Correct and useful information about own PC hardware and monitoring tool.
Vimes reviewed v2009.1.90 on Aug 20, 2009
Great utility and very informative and easy to use. Excellent in its scope and layout.
bufftbone reviewed v2009.1.89 on Aug 10, 2009
Yay, a cookie!
Zoroaster reviewed v2009.1.88 on Jul 14, 2009
Professional, efficient, and free moreover. A reference, as all CPUID software. Excellent.
some guy reviewed v2009.1.88 on Jul 13, 2009
felixml you are a clown .This contains no virus learn how to oprate your pc before you post
scan
http://www.virustotal.co...e3d3a1a11b79-1247508850