File Details

File Size
328.1 MB
License
Freeware
Operating System
Mac, Microsoft Hyper-V Server 2008, Unix, Windows (All)
Date Added
August 1, 2013
Total Downloads
18,500
Publisher
Patrick Verner
Homepage
Parted Magic
Publisher's Description
Parted Magic OS employs core programs of GParted and Parted to handle partitioning tasks with ease, while featuring other useful programs (e.g. Partimage, TestDisk, Truecrypt, Clonezilla, G4L, SuperGrubDisk, ddrescue, etc...) and an excellent set of documentation to benefit the user. An extensive collection of file system tools are also included, as Parted Magic supports the following: ext2, ext3, ext4, fat16, fat32, hfs, hfs+, jfs, linux-swap, ntfs, reiserfs, reiser4, and xfs.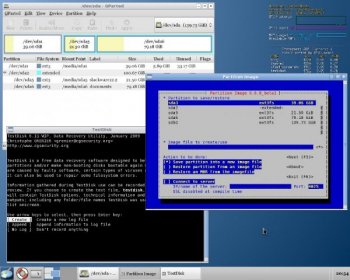 View Full-size
Latest Reviews
roj reviewed v2013_08_01 on May 14, 2014
Sadly, this version is the last free version. It's gone payware and while $4.99 is a pittance to pay for one release, it still (for me at least) breaks the principle of the thing.

It's still a FIVE STAR collection.
Monkey_Punch reviewed v2013_08_01 on Aug 1, 2013
Parted Magic incorporates gobs of tools for disk recovery, health testing and secure erasing. It doesn't even begin to scratch the surface to say there is some kind of tool in here for even the most jaded been-there-done-that IT guy. It's bleeding edge and always being updated on a near daily basis. The author is a real nice guy and deserving of your donations, however small, to keep this invaluable project going (and to make a living/pay bills). Help a guy out and throw him a couple bucks for his hard work. NO ONE makes a suite of tools under one roof this good and for free. NO ONE.
BANDIT- reviewed v2013_07_21 RC1 on Jul 26, 2013
ONE EXAMPLE: Of "Head in Hands"

If you have several External drives attached
& during Boot/Re-Boot, One of them goes RAW..!!
(USE: testdisk) Included..... WINK..!!

This App has everything you should ever need Ref working with Disks.
It'll save you hours searching for fixes should you ever hit
a problem & not have any Recovery/Fix Apps available...
Formatting & Partitioning is a Doddle.

Download it "Eeeeeeeven" if you dont know Jack about,
- Disks (partitions, MBRs, Boot sectors, structure)
- DOS (cmd)
- Boot Disks
- Recovery (flix, mp3, valuable data)
OR .... Think It'll never happen to you
OR .... Only have one drive ... C:\

Be WELL prepared with this very Extensive & Nifty Package.
A lot of Reading/Learning for Noobs. (Do NOT be put off tho)

5* (x10) from this corner.
draalin reviewed v2013_05_01 on May 10, 2013
Hi,

This tool pretty much saved me from redoing my server so I thought I would share the steps I went through in both Resizing and Cloning my partition.

I dunno if you are allowed to link to any guides? If not I'll remove them unless there is an easier way for me to import them over here.

Resizing partition guide: http://draalin.com/using-parted-magic-t ... partition/

Cloning partition guide: http://draalin.com/using-parted-magic-t ... partition/

Just wanted to share.

Thanks
FatBastard reviewed v2013_05_01 on May 1, 2013
This software is soo sweet :D
Monkey_Punch reviewed v2013_01_29 on Jan 30, 2013
Parted Magic is an invaluable tool in the toolbox of any tech who's worth their mettle. As someone who actually donates to the project on a regular basis--because PM helps save systems I work on--it is well worth what many pay-to-use apps cost. Throw money at Patrick because he is very deserving of your support. He keeps the apps and kernel fairly current and is very responsive to requests for bug fixes or app updates.
Music4Ever reviewed v2012_09_12 on Sep 12, 2012
Can't rate this as high as I would like - Brilliant - Thanks to those who complied it!
FatBastard reviewed v2012_07_05 on Jul 8, 2012
Parted Magic is wonderful. I only wish it had VLC built in.
some guy reviewed v2012_07_05 on Jul 7, 2012
great tool very useful to recover files off a viruses out windows OS computer this will all so boot off a USB flash drive using YUMI http://www.pendrivelinux...i-multiboot-usb-creator/
a must have in your tool box !
Hilbert reviewed v2012_06_26 on Jun 28, 2012
I regularly use Parted Magic and find it a very useful tool for both cloning and partition editing.

That said, I had some problems with this 2012-06-26 version. Specifically, the mouse locked up* on the default run-from-RAM GUI setup, the RAID setup could not recognize a common Intel ICH10R RAID configuration which gave a 'device not recognized' error message and I'm still investigating a problem with the alternative graphics menu boot.

Also the cloning tool CloneZilla had problems recognizing some (but not all) large NTFS-formatted 1 and 2TB drives and literally aborted the cloning operation. Note: I also had identical problems with CloneZilla in the earlier 2012-04-21 version (this is currently my normal work version).

The two machines where Parted Magic experienced problems were working perfectly but as a double check I performed the same operations under the same conditions using Acronis True Image 2011 and Acronis experienced no problems recognizing the RAID configuration, nor did it have problems cloning the same large (non-RAID) drives that Parted Magic had problems with. (I should mention however that I've previously found Acronis to be slower at cloning than Parted Magic.)

For the time being, I'll revert back to using the earlier 2012-04-21 Parted Magic (as it does not lock up the GUI).

__

* nVidia feeding a Dell u2711 monitor running at 2560x1440x32.