File Details

File Size
15.2 MB
License
Open Source
Operating System
Windows 7/8/10/Vista/XP
Date Added
May 22, 2023
Total Downloads
9,043
Publisher
Rony Shapiro
Homepage
Password Safe
Other Versions
Publisher's Description
Password Safe is a password database utility where users can keep their passwords securely encrypted on their computers. A single Safe Combination unlocks them all.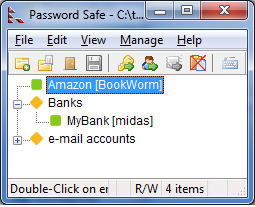 View Full-size
Latest Reviews
Frublo reviewed v3.53.0 on Sep 14, 2020
A program with good functionality, I easily figured out the menu and applied the options in practice https://sourceforge.net/projects/passwordsafe/ But the design of the program is not very good.
Uriel reviewed v3.28 on Feb 27, 2012
I am using this password saver on my Ubuntu machine and it is one of the best for Linux. It's still tedious compared to Roboform on Windows. But for Linux it's pretty darned good.
reddy.shyam reviewed v3.26 on Jul 6, 2011
Plenty of updates. Check change log on site. Best of its kind.
reddy.shyam reviewed v3.23 on Jul 28, 2010
Best gets better!

Release notes:
New Features for 3.23
=====================
[3022827] Implement 'stealth' mode where, as long as the user specifies both
the use of the System Tray and a valid Hot Key, then the System Tray
icon and the button on the Taskbar can be hidden.
[3017535] Allow user to edit the generated passwords (Manage->Generate Password)
before copying to the clipboard.
[3011546] "autotype" can now be added to the List View via the Column
Picker (right click on column labels).

http://sourceforge.net/p...3/ReleaseNotes.txt/view
reddy.shyam reviewed v3.22 on May 25, 2010
Best freeware out there! Regularly updated. Been using it for ages now and no issues so far.
therube reviewed v3.22 on May 24, 2010
Release notes: http://sourceforge.net/p...2/ReleaseNotes.txt/view
DaCash reviewed v3.21 on Feb 17, 2010
Good is just getting better! Now it have password generator on the Manage menu, which saves me some time. Yes, i know that i can create new entry, generate pass without saving entry, but this new feature is plainly convinient. Excellent program
anomoly reviewed v3.20 on Dec 11, 2009
And it's going on 10 years old without a single gui update. I'll stick with psafe. It allows me to leave my safe open and actually logs me in without having to travel back in time.
Enlightenment reviewed v3.20 on Dec 10, 2009
PINs has been around for years!
http://www.mirekw.com/winfreeware/pins.html
anomoly reviewed v3.19 on Sep 30, 2009
I tested this with a login security test from http://www.info-svc.com/news/2008/12-12/. There was only one point where I actually used the autologin feature. The rest of the time I was using the copy password to clip... , then closing psafe before doing next step. Even though all logins were saved in psafe (7 total), I always stated that it neither asked to save nor did it login automatically at ANY point (as it does neither to begin with). Running opera 10 beta with it's own pass mgr off, redirect off, & send referrer off, fraud protect on, & cookies for original only on, I passed 13 of the 21 'tests'. 32 steps in all. This is way better than opera, ff, ie, safari, chrome, etc's built-in mgr's. Roboform is also totally insecure.
Try the test at the end of the dialog (lnk)
Granted, bank websites or other potentially damaging server logins are what is at stake. Twiiter's and generally insecure email acct's, forum's etc are not all that important in the grand scheme, imho.
As well, logins-ins such as this one: http://web.feedreader.com/ do not work with opera's pass mgr. I HAVE to use psafe.
I believe psafe does clear clip. I know it does when it minimizes or closes. Drag & drop?? Psafe never displays details by default (Ditto NEVER shows psafe data). Nothing to grab whatsoever.
I have ~68 logins and it uses 2048 KB idle.