File Details

File Size
5.9 MB
License
Shareware, $39.95
Operating System
Windows 2000/9x/Server 2003/XP
Date Added
April 12, 2010
Total Downloads
5,234
Publisher
PicaJet.Com
Homepage
PicaJet
Publisher's Description
PicaJet is a straightforward photo organizer for digital camera owners. The pivotal points of the software are the following – direct import from camera, one-click image sharing, automatic photo enhancement feature, easy search, built-in photo album and one-click print.
PicaJet allows you to include your photos from your existing photo collection (or image collection), or acquire (i.e., import) photos from your digital camera or scanner. After you include or import these digital photos (or images), you can organize, view, edit and print them. You can create slide-shows and photo-albums and share precious memories or moments with your family and friends.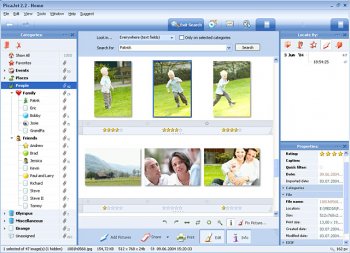 View Full-size
Latest Reviews
markus10018 reviewed v2.5.0.494 on Jul 20, 2007
Could have been a good product if there weren't the big problems with stability. Bought it but never really used it because of the frequent crashes. In its current state it's a waste of money.
zridling reviewed v2.5.0.492 on Jul 18, 2007
As other image programs go nuts trying to be weirdly inefficient, Picajet FX has managed to quietly get better and better, and still be faster than anyone else. Worth every penny, and then some.
zridling reviewed v2.5.0.488 on Jun 22, 2007
You're joking right? FotoAlbum doesn't even compare to PicaJet. I've worked with FotoAlbum Pro and it can't do half the things PicaJet FX can. Use the software before advertising bad alternatives dude.
potyi reviewed v2.5.0.484 on Jun 12, 2007
Nice GUI, but some functionality missing ... comaparing to FotoAlbum
http://www.fototime.com/fotoalbum
uberfly reviewed v2.5.0.468 on Oct 18, 2006
This app is miles ahead of picassa. Unlike picassa, picajet works for you when and how you want it to, and it doesn't lead you by the nose through a process it believes is best for your image collection. Picassa frustrates me, and Picajet is a breath of fresh air. I wish all software apps were this good and written with the end-user in mind.
zridling reviewed v2.5.466 on Oct 10, 2006
Good point, and don't forget, PicaJet's UI is highly configurable.
KMurat reviewed v2.5.460 on Aug 18, 2006
PicaJet also can writes image caption info into the IPTC and even in XMP of DNG files (which Picasa doesn't). There are available Folder Structure view (Locate By > Folders) and slideshow with really cool transition effects. Free to try.
elpopi reviewed v2.5.457 on Aug 4, 2006
I have tried this product a few times hoping for it to run smoother. It does have a nice GUI but I find Picasa to be far more solid and polished. Picasa writes tags and captions to IPTC (you have to pay for this in PicajetFX) and the latest Picasa beta does show folder structure.
zridling reviewed v2.5.454 on Jun 29, 2006
So because it's as good (actually far better than Picasa by a mile) as your favorite freeware app, you're trashing it? Oh yeah, that makes sense. PicaJet's user interface is so much faster and easier than Picasa's, and it's constantly updated. No contest.
nordlicht reviewed v2.5.454 on Jun 29, 2006
This Tool has nothing that good Freewaretools can't offer. I don't see any sense for paying money for a tool like this. Take a look at Picasa. It's free and much nicer.