File Details

File Size
2.5 MB
License
Open Source
Operating System
Windows (All)
Date Added
June 27, 2020
Total Downloads
20,900
Publisher
Simon Tatham
Homepage
PuTTY
Publisher's Description
PuTTY is a great program for telnetting into your *nix server. Fully supports all linux character codes and colors.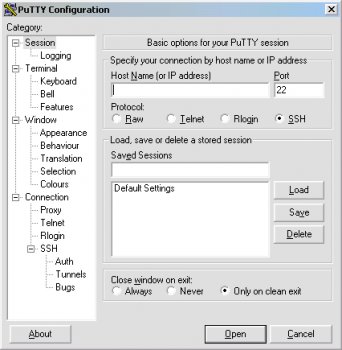 View Full-size
Latest Reviews
Assirius reviewed v0.66 on Nov 22, 2015
You wouldn't do SSH connection without this !
Straight One !
Mirage_Etoile reviewed v0.66 on Nov 13, 2015
TWO THUMBS UP!!!
Assirius reviewed v0.63 on Aug 21, 2013
Great ! I've been waiting this new release since long time , the best ssh client !
-Lord- reviewed v0.63 on Aug 7, 2013
There are numerous reasons why this program deserves more than just 5 stars.

1. free
2. open source
3. small
4. easy to use
5. crazy effective

the list goes on. i could not imagine administering to my Cisco equipment without this tool in the box.
TomekLutel reviewed v0.60 on Dec 24, 2007
SecureCRT doesn't come close to Putty, Putty is much faster, try
time cat /var/log/somebiglog
and look at "user time"...
Putty is almost 2 times faster on 1Mb link, no metter of compression settings.
Home and End keys works correctly by default, unlike in SecureCRT.
The same with line wrapping.
Putty wins hands down, and its free.
ArKay74 reviewed v0.60 on Apr 30, 2007
Have to agree on the registry thing. Had to reinstall my PC just recently and lost all of my settings. Not cool, otherwise my SSH client of choice.
stisev reviewed v0.59 on Apr 8, 2007
Putty is awesome, but it loses 1 star for not being able to save in a local .ini file vs registry

Download "portaPuTTY" instead!
http://socialistsushi.com/portaputty
Don Juan reviewed v0.59 on Jan 25, 2007
Another problem with this listing, it says freeware instead of open source.
Ian C. reviewed v0.59 on Jan 25, 2007
Commercial SSH clients just can't compete with this.
clifton reviewed v0.59 on Jan 25, 2007
Web site says final and also lists OS support as Windows 95, 98, ME, NT, 2000, XP and Vista on Intel x86