File Details

File Size
0.7 MB
License
Freeware
Operating System
Windows (All)
Date Added
November 2, 2021
Total Downloads
15,487
Publisher
softwareok.de
Homepage
Q-Dir
Publisher's Description
Q-Dir makes your files and folder easy to manage. Fast and easy access, with an amazing Quadro-View technique. You don't have to renounce the usual, Drag and Drop, all Views, and other functions of your system. No! Q-Dir gives you other nice functions, that make you happy. One can save many hand moves and also time.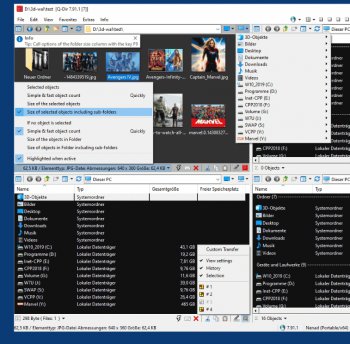 View Full-size
Latest Reviews
egg83 reviewed v7.74 on Aug 16, 2019
Excellent Explorer replacement. Tons of features to help one with file management.
cyberguy reviewed v7.07 on Jun 23, 2018
Looks to be a decent program of it's sort. I have no complaints other than it does not track with my way of interacting with my pc. That is not a bad thing. Just personal preference. For what it does, it does well.

Personal taste runs to simply opening more explorer windows to do things across directories/drives. I'l old fashioned that way :)
uberfly reviewed v6.82.1 on Jan 15, 2018
Q-Dir damaged my registry.
reddy.shyam reviewed v6.61 on Jul 20, 2017
Excellent explorer alternative with tabs
Enlightenment reviewed v6.02 on Dec 19, 2014
It has icons to quickly change between various layouts of 1 / 2 / 3 / 4 directories.

There are some downsides as other people have stated, but depending on the task, I'll make a choice of various file managers.

If I need to work with multiple directories at the same time, then I always use Q-Dir, otherwise I'll use the default windows file manager or xplorer2 lite.
DrTeeth reviewed v5.98.3 on May 25, 2014
The best there is. I cannot do without four panes. Development is continuous but the developer is not very responsive.
guru_v reviewed v5.84 on Dec 9, 2013
Really great file manager, but it appears that most people today don't do much managing of files - the result of huge drives that fail so infrequently.

Still, neatness is next to... and to that end, this is the best free file manager extant. It is so configurable, and the author updates and improves it frequently.
jacobjackson reviewed v5.30 on Aug 24, 2013
q-dir is the bomb
pjafrombbay reviewed v5.16 on Jun 13, 2012
This is a really good bit of software. I have been a "two-pane" file manager for many years (How does anyone use a single pane file manager like Windows Explorer?). For several years I have been using the paid version of Xplorer2 (http://zabkat.com/index.htm) and will continue to use it. However, Q-Dir is on my "tool box" USB stick to install on friends PCs when I am asked for help.

If you don't want to pay for Xplorer2 then Q-Dir or Nexus file manager (http://www.xiles.net/nexusfile/) are certainly worth a try.

Regards,
Peter
bobad reviewed v4.32 on Nov 13, 2011
Up to 4.84 now.

Great program. 6 annoying problems I can think of right now.

1. The tool bar icons are ridiculously small. I'm not kidding you, those icons are only about 2mm on some displays. I think Nenad has exceptional vision, and believes everyone else does. Come on man, make the icons 4x bigger, or at least an option for large icons.

2. The "Save Current State at Desktop" is wonderful, but has a Win 7 quirk. You can click the icon on the desktop and it works fine. However, when you pin it to the Task Bar, it starts in a tiny miniature window, not saving the window position and size settings.

3.When you choose to not show the address bar, the tool bar icons also disappear. A "back", "forward", and "up 1 level" button among others are very important even without an address bar.

4. Selecting the check boxes in the file window lags. You check the box, and it appears not to be checked. In a few seconds the box will then appear checked. This has been improved over the months, the delay used to be terrible, now it's not terrible, just bad.

5. Refreshing is slow or absent. When files are deleted or moved, the window is not updated. I must use F5 a lot, very annoying.

6. Large file operations completely lock the program. When unzipping, moving or deleting large files, the program is completely unresponsive until the operation finishes. The Windows Explorer does not do this. This is annoying. I think Q-Dir needs better multi threading functionality.