File Details

File Size
9.8 MB
License
Freeware
Operating System
Windows (All)
Date Added
August 25, 2017
Total Downloads
10,072
Publisher
QIP
Homepage
QIP
Publisher's Description
QIP is a unique closed source computer program for immediate cross-internet communication. The basic functionality of QIP enables its users to see who else is online and available, and then easily contact them with text messages in real time sent through a public server.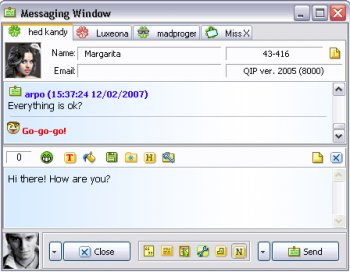 View Full-size
Latest Reviews
niknetpc reviewed v2012 Build 6583 on Oct 11, 2011
Guys with one star from the bottom is 100% correct.If you care about privacy and don't want to loose you personal ID, login and passwords,DO NOT USE this app.
Input Overload reviewed v3.0 Build 9042 on Mar 3, 2011
Don't even look at the screenshot. Oh no I looked. Don't install this unless you are mad.
Artem S. Tashkinov reviewed v3.0 Build 9042 on Feb 18, 2011
One of the the worst pieces of crapware I've ever seen in my life.

Use Miranda which is much faster, lighter and doesn't abuse your system by installing junk additions.
VictorAnderson reviewed v2.0 Build 9040 on Aug 30, 2010
Seeing how this application is nothing other than a scam to steal people's ICQ#'s perhaps the betanews people would be nice enough to actually remove this program from the site.
VictorAnderson reviewed v2.0 Build 9033.8 RC4 on Jan 19, 2010
DiamOnd - that is a bummer you lost your ICQ#.
I'd said in previous posts that this thing is a pile of crap and was made to steal ICQ numbers and send spam - hopefully others here will read the warnings and not loose their ICQ #.
Diam0nd reviewed v2.0 Build 9033.8 RC4 on Jan 19, 2010
This is beyond crap. My ICQ number got stolen after I used QIP.

After registering, it will be sending spam to your contacts. Also, you will magically find out that you have a blog page on their site, where all your status updates will be posted.

This project was sold to a russian media conglomerate, and now it is doing what it was paid to do: generating clicks from users. By ANY means possible.

WORST CRAP EVER.
Artem S. Tashkinov reviewed v2.0 Build 9033.5 RC4 on Dec 5, 2009
Recently, I've learnt that by default QiP saves all your user identification data on RBC servers (ICQ/jabber user/password/etc). Good bye, privacy.
budzis reviewed v2.0 Build 9033.5 RC4 on Dec 5, 2009
I don't know anybody who use icq. I had try icq and qip and may say - very low ergonomic. And i do not know anybody, who use icq today. It (icq) was actual 10 years ago, but today it`s archaic
VictorAnderson reviewed v2.0 Build 9028 RC4 on Mar 3, 2009
Well - I *assume* that they fixed this problem:

http://seclists.org/bugtraq/2009/Feb/0024.html

...but again - so many other options out there that are either a) open source or b) from someone more well known.
Phenomen reviewed v2.0 Build 9026 RC4 on Feb 14, 2009
QIP Infium supports GTalk and Jabber too. So don't post your review if you even doesn't try program. I like QIP for it's minimalistic, but pretty interface and alot of options (Miranda preferences is a geek hell). Also QIP has "meta-contacts" for merging ICQ\Jabber account of your friends.

PS: btw, ICQ is the most popular IM in exUSSR countries. Nobody use MSN or AIM in Russia, so QIP is a great tool for me.