File Details

File Size
14.3 MB
License
Shareware, $60.00
Operating System
Windows 7/8/10/Vista/XP
Date Added
September 8, 2022
Total Downloads
57,470
Publisher
Cockos Inc.
Homepage
REAPER
Other Versions
Publisher's Description
REAPER is a powerful but sensible Windows application that lets you record, arrange, edit, and render multi-track waveform audio. It provides an extensive set of features, but is a very small and lightweight application (the installer is less than 1 megabyte, and includes many effects and a sample project).
REAPER supports ASIO, Kernel Streaming, WaveOut, and DirectSound for playback and recording. It reads WAV, OGG, and MP3 files, and records WAV files. You can arrange any number of items in any number of tracks and use audio processing plug-ins (DirectX and Jesusonic). REAPER also supports volume, pan controls and envelopes per track, multi-layer undo/redo, and user creatable color themes.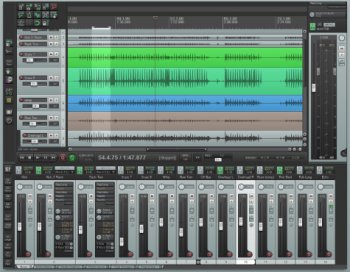 View Full-size
Latest Reviews
darkNiGHTS reviewed v4.602 on Mar 25, 2014
Blows Protools away (if you take the time to learn it).
SineWave reviewed v4.14 on Feb 11, 2012
Great for price. Blows away ProTools.

While waiting for PT to boot, you can do half of the song in Reaper. Just one of the many examples... I simply gave up on PT as it's not worth the trouble. DigiDesign is also a very crappy corporation, it's hardware is total cra*, not worth the trouble, too. They just want to have your money, lots of it. c***os on the other hand is a completely different story.
SineWave reviewed v4.14 on Feb 11, 2012
Great for the price. Blows away ProTools.
SoundMix reviewed v4.0 on Aug 5, 2011
OK for price. ProTools blows it away.
SoundMix reviewed v4.0 on Aug 5, 2011
OK for price. ProTools blows it away.
michagunt24 reviewed v4.0 RC2 on Aug 1, 2011
raccolta di tatuaggi da scaricare in forma gratuita
sopri le offerte di offerte viaggi per le tue vacanze lastminute
egg83 reviewed v3.4 on Mar 26, 2010
For the size of this program, is a great piece of recording software! Purchased this a few weeks ago, and is truly worth the price! Great deal of features, designed very well, everything that one needs for recording is within a click or two. High marks for Reaper...
aarowsmith reviewed v3.161 on Jan 4, 2010
One of the Best and Easiest to get started up and running true Pro Recording Software out there at an unbelievable Price ! Reaper is both Very Powerful and Easy to use. I do not know about other Musicians and Sound Engineers/Producers and Song Writers out there, but, what I can say is the Reaper Software is as good and or better than Pro Tools or any other Recording Software out there at any price, Period !!!!. And it only gets better and even more powerful as time goes by. The Reaper Software Updates released on a regular basis and also a big plus is the Reaper Software Programmers actually do listen to their User Base !!! Wow', now if we could only get Congress, GM and Chrysler to listen to us.......? Na', that will never happen........
dhry reviewed v3.06 on Jul 21, 2009
Pretty good program. Top marks for actually naming their software company "c***os".. a nickname I've given to MacOS for years now..
some guy reviewed v3.06 on Jul 21, 2009
pretty powerful stuff but need more cow bell