File Details

File Size
30.6 MB
License
Freeware
Operating System
Windows 2000/Server 2003/Vista/XP
Date Added
January 27, 2021
Total Downloads
51,082
Publisher
RainmeterTeam
Homepage
Rainlendar
Other Versions
Publisher's Description
Rainlendar is a feature rich calendar application that is easy to use and doesn't take much space on your desktop. The application is platform independent so you can run it both on Windows and on Linux. The appearance can be customized with skins and you can even mix different skins together.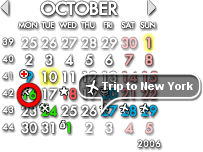 View Full-size
Latest Reviews
cltx99 reviewed v2.12.2 on Mar 18, 2014
I've been using rainlendar for years and it's simply excellent. It certainly is not irrelevant as one commenter said.
some guy reviewed v2.8.1 on Feb 7, 2011
version 2.8.1 stable 6.7 megs of ram used works like a charm simple and non bloat.
stisev reviewed v2.5 Build 72 on Mar 29, 2009
I can't believe people are rating this so low.

I replaced Lightning (thunderbird) and Outlook calendar with this and NEVER looked back.
I input stuff directly in Rainlendar and don't need the pro version (which only includes google calendar + outlook calendar support).

It's free, portable, stable, and does what it says! Right now it's taking 8.3MB with a calendar full of stuff. Sometimes it does take as high as 14-16MB, but seriously, if it does what I want (and does it well), who cares?
anomoly reviewed v2.5 Build 72 on Feb 23, 2009
Jeez. You guys complain about a few megs of memory. My s***box uses a tad over 13 mb just so I can have a simple but useable desk calendar, and I have only a gig of ddr400. ProcessExplorer uses more on mine (17+).
It for me is practical and has a small desktop footprint which is what is important. LClock has a nice calendar too, but it can't do what this can nor will it run in sharpenviro.
You should really suggest a better (I bet u can't) one than use memory as an excuse to bash a perfectly good piece of software. This is the only program I run that has a pro version which is saying a lot for the software itself.
Pkshadow reviewed v2.5 Build 72 on Feb 23, 2009
With this products footprint taking more and more I see "no" reason to upgrade from a earlier version if you can find it. I would like for that version as it was a "great" app for what it does.
Since I do not run Outlook it is a great app for me!
If you can balance what you use and what you do not this version my still be a useful program. It's about time all apps start migration to Win7 so lets see still where this goes before condemning it to far down!
\Does what it is suppose too, works great!
DudeBoyz reviewed v2.5 Build 72 on Feb 23, 2009
Still not liking the changes, and the very slow development cycle. I think this app is pretty much irrelevant at this point. Surprised they even bothered with an update, actually.

Here is there CHANGELOG page:

http://www.rainlendar.net/download/Changes.txt
DudeBoyz reviewed v2.4 on Aug 27, 2008
This used to be a decent, if a bit buggy, app way back in the day. But man, it's just turned into a bloated unstable mess. I feel bad that the program went in that direction, because it had a great deal of potential, imo.
Blaxima reviewed v2.2 on Dec 7, 2007
Gave this another try just to use the "to do list" and thats all I have showing and it uses 16,542k just to do that!!!!!

rubbish
Blaxima reviewed v2.1 Build 42 on Jul 3, 2007
SMALL FOOTPRINT my ass!!!
Older Versions were but I really don't think something that uses more memory than my Kaspersky or ZoneAlarm v5 or Opera all while I write this could be considered small. AND FOR WHAT?!?!?!
some guy reviewed v2.1 Build 41 Beta on Jun 21, 2007
small footprint free what more could you want