File Details

File Size
8.9 MB
License
Shareware
Operating System
Windows (All)
Date Added
March 9, 2019
Total Downloads
3,952
Publisher
Rose City Software
Homepage
Registry First Aid
Publisher's Description
Registry First Aid scans registry for orphan file/folder references, finds these files or folders on your drives that may have been moved from their initial locations, and then corrects your registry entries to match the located files or folders. In addition, if your registry has links to files of deleted applications, it will find these invalid entries and remove them from your registry. Your Windows registry will be always clean and correct, helping your programs load faster and speeding up your computer.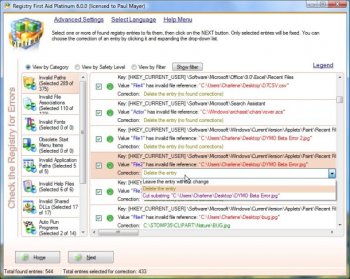 View Full-size
Latest Reviews
Bala7 reviewed v10.0.0 on Dec 5, 2014
Reg cleaner, NO don't wast your time BUT
Reg defrag, Yes an absolute must have unless you want your Win machine to boot-up in 20 minutes.

The best registry defragment I've ever used not to be confused with hard drive defrag. All those one star rating most likely are from people who never used Registry First Aid.
BANDIT- reviewed v9.2.0 on Dec 4, 2013
##Not even tested this crap##

If you think your registry needs a tidy up, look for a renowned "open-source" App. Or an Established FreeWare (I don't recommend anything Beta). Get/Make it portable if possible. No Install = No reg keys.

BEST fix for the Reg is: Leave it Alone (Unless ABSOLUTELY necessary) .... ( _ º _ )
Windows' registry concept and implementation are utterly broken.

No application can change it.
mike59 reviewed v8.0.0 on Oct 26, 2010
Old scamware.
This scam will break many computers.
CyberDoc999 reviewed v7.1.1 on Oct 21, 2009
This gave me a BSOD ! and I had to restore from a back up..
zapatero reviewed v6.0.0 on Apr 2, 2007
Very reliable, I have used it regularly for years. Last version has an improved interface, Registry defragmenter, Vista compatibility (I cannot check this).
DIRKES reviewed v5.0 on Jul 6, 2006
The new version has a better GUI.
It found 275 mistakes in my registry and defrag it up to 20%.
I personally like it.
bokhylla reviewed v4.3.1 on May 13, 2006
Superb support! If problems, you can exclude folders and items from the scan!

The support is really, I mean really superb! I got help in about one minute! If a problem with a program occur after a scan, you can exlude that programs folder and item once, so that it will not happen next time you scan. I think it scans the registry more thoroughly, than many other good registry repair programs. If you are not an expert, use it in safe mode! Bjorn Lundahl, Gothenburg, Sweden
DunbarKC reviewed v4.1 on May 12, 2005
Works great with Windows XP SP2 Pro. It's an intelligent utility.
cyberia reviewed v4.0 on Mar 10, 2005
If you let it delete everything that this program says is green/safe, you're screwed.