File Details

File Size
1.9 MB
License
Freeware
Operating System
Windows 7/Vista/XP
Date Added
April 23, 2015
Total Downloads
10,266
Publisher
Jackass JoeJoe
Homepage
Rename Master
Publisher's Description
Rename Master is a free utility for renaming large groups of files with a few clicks. Anyone that has worked with websites, file archives, or collections of music, videos, or pictures has probably spent way too much time renaming hundreds of files. This utility will add, remove, or replace parts of the filename with ease and also supports renaming via file properties, MP3 tags, JPEG JFIF and EXIF tags.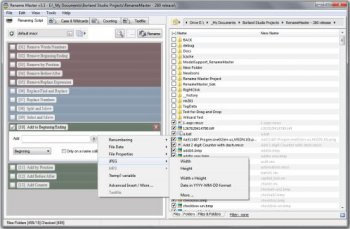 View Full-size
Latest Reviews
olirosee reviewed v2.8.2 Test 8 on Aug 31, 2009
Version 2.9.3 is out and the link on this page doesn't work anymore, so go straight to the developer's page instead.
topgear reviewed v2.8.2 Test 8 on Mar 22, 2008
A very nifty little renameutility - all that I needed.
anomoly reviewed v2.8.2 Test 8 on Mar 18, 2008
WoW! Gui updated & It's Nice.
THE BEST renamer Period. Exe is compressable and portable
anomoly reviewed v2.7.6 on Dec 6, 2007
I use this for ebook renaming mostly. Permanent addition to my portable file collection.
radiomaffia reviewed v2.7.6 on Dec 6, 2007
This utillity has save my a lot of time, simply excellent for renaming, also for extensions!
For renaming INTO html, css and so on I can suggested TexRep, saves you lot of time too!
flood78 reviewed v2.7.5 on Jul 25, 2007
You can try this one too (freeware).

Oscar Renamer
http://www.mediachance.com/free/renamer.htm

I found Oscar Renamer really simple to use.

"Why somebody would need a file renamer? You can select a file in Explorer, press F2, rename the file and press Enter and that's it.
Well that's exactly the reason... after doing this on hundred something files I got totally frustrated, my eyes were crossed and fingers hurt.
Why it can't be done easier, for example like in a text editor? And a new internal tool was born."
anomoly reviewed v2.7.5 on Jul 25, 2007
7-12-07 right click add-on option.
stisev reviewed v2.7.2 on Mar 15, 2007
Represent ars! ;)

Hi Jackass. Thanks for this great utility, you a** ;)

=p
5/5!
poisonu reviewed v2.7.2 on Mar 14, 2007
Best!
nefarious1 reviewed v2.7.2 on Mar 3, 2007
This is one of the best file rename utilities out there, but will not be too friendly to the beginners or those that are not very skilled with computers. If you're looking for something "Point -n- Click" this isn't for you.

99% of ANY file renaming needs are covered by the interface and that last 1% can still be done in Rename Master with the included full Regular Expression support, provided of course that you KNOW how to use Regular Expressions.