File Details

File Size
3.9 MB
License
Freeware
Operating System
Windows 7/8/Vista/XP
Date Added
January 10, 2021
Total Downloads
5,220
Publisher
RBSoft
Homepage
Right Click Enhancer
Publisher's Description
Right Click Enhancer gives you power to control the right click menu everyone uses. Right Click Enhancer allows yo to edit your right click menu in the way you want. Now with help of this wonderful tool you can add some good stuffs to your right click context menu. Right Click Enhancer consist of 7 tools to manage your right click context menu. All of them are described below.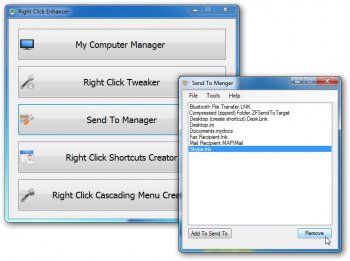 View Full-size
Latest Reviews
some guy reviewed v4.5.2 on Dec 27, 2017
I used this because I wanted to be able to right click on a file and used to send to option so I could launch feem so I can send wfi direct and it worked like a charm
CyberDoc999 reviewed v4.3.6.0 on Jun 6, 2015
not working with windows 10
DKDude reviewed v4.1.1 on Aug 13, 2013
Could not live without this tool, so I've bought the pro version.
I like the program, not supporting the dev and whine over toolbars and other stuff in the free version, was not ok, I apologize.
donbregman reviewed v4.0.1 on Apr 8, 2013
Not nice to fool people in that what is listed as "freeware" is not necessarily so!
Kylde reviewed v3.2 on Feb 23, 2013
Ignore the crapware, use the portable version :)

http://rbsoft.org/downloads/right-click-enhancer
DKDude reviewed v3.1.2 on Nov 27, 2012
Installs to much crapware, a good program has gone bad.
Kylde reviewed v2.6.0 on Jun 13, 2012
2.6 works great, many thanks to the author for contacting me & supplying a beta to resolve the issue
Music4Ever reviewed v2.6.0 on Jun 7, 2012
Great program far better than other pay for editors I've seen. Very impressed!
Kylde reviewed v2.5.2 on May 23, 2012
still can't edit an existing menu-item in the "cascading menus shortcut creator". The path is c:\windows\system32\regedit.exe, the full command is "c:\windows\system32\regedit.exe c:\randomiser\conds\nowind.reg". Yes I saw the discussions tab :)
Sativarg reviewed v2.5.2 on May 22, 2012
@Kylde Are you seeing the messages in the Discussions tab for you?

@RBSoft:::
This is a great idea. I had implemented a couple of the tweaks already from searching around
One tweak that may be of some use here could be the inclusion of Windows 7 File-properties "Version" Tab Shell Extension - CodeProject but it may not be allowed if the original author "Fish" (David B. Trout) forbids it.

Thanks for the great tool.
RE:2yourface Facebook Chat, 2yourface? - Yahoo! Answers
I don't need or want this.... so -1 because I also do not want a tool bar? I hope you understand...

Why is every sub tool trying to go online ?...-2

UPDATE: I have been graciously informed that the internet activity I was concerned about is for development purposes only and that an option to disable the feature is soon to come so +2 for the great news and +1 for such excellent professionalism and grace.