File Details

File Size
2.6 MB
License
Freeware
Operating System
Windows 2000/9x/Server 2003/Vista/XP
Date Added
August 23, 2009
Total Downloads
81,470
Publisher
Alex Unwinder
Homepage
RivaTuner
Publisher's Description
RivaTuner is a powerful tweaking utility for NVIDIA based cards. All series of Detonator drivers have a lot of undocumented registry entries. Some of them don't affect anything, but some are very useful. In general they cannot give you big performance boots but they can improve image quality and solve some compatibility problems. This utility will help you to change all undocumented registry entries.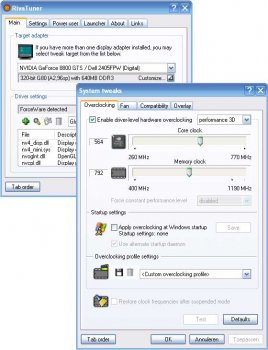 View Full-size
Latest Reviews
Virtual_ManPL reviewed v2.24c on Aug 25, 2009
5/5
awesome tool for overclockers, this program have many hided settings for nVidia cards ;)
OAKsider reviewed v2.24b on Aug 18, 2009
RivaTuner is one of the finest apps ever created for graphics cards, and freeware at that. A must-have tool for anything GPU-related, from monitoring temperatures to adjusting fan control to overclocking, and setting automated schedules for them all. Indispensable, indeed! Thanks Unwinder.
johnk119 reviewed v2.24 on Mar 22, 2009
indispensable
darkelvi18 reviewed v2.24 on Mar 9, 2009
lo mejor
Somnambulator reviewed v2.24 on Feb 27, 2009
i experience some of the bugs mentioned as fixed in patch notes. while i moved to ATI very recently and wont be testing this latest release, the previous releases were top notch. this release, assuming it doesnt create new bugs, is a must for anyone running RT.

subtracted 1 star due to its huge learning curve relative to most other gfx programs. it took me weeks to figure out all the ins and outs of the program, and while there is sometimes decent documentation on what RT can do and how to do it, i found googling more beneficial than RT's actual help and walkthroughs.

for ATI cards, Ati Tray Tools is a much better app due to its more simplistic nature and doing a majority of the more common features RT does. ATT lacks a G15 plugin which is the only thing i really miss from RT (though i have a seperate G15 plugin called WVS that supports ATT but it is a little buggy)
horsecharles reviewed v2.20 on Nov 20, 2008
Ok Sativarg & Durden500-- I respect your opinions.

I guess there's a price to pay for using RivaTuner-- just like the stereotypical great byob restaurant that's located in a hard to find location w/ perhaps inconvenient access. It's hard to fathom that for such an advanced / technically superior app...eehhh...

I've actually just been bit with a hankering to see how much i can accomplish with Riva, esp. on Vista, on a couple of systems-- will set aside some time to devote to that.
Vimes reviewed v2.11 on Sep 17, 2008
Feature rich it is indeed. Intuitive it certainly isn't. Have not got he patience to wade through its humongous amount of features when its slimmer, compact and more agile sibling EVGA precision can do what I need in a simple, uncluttered way.
andrewbmoore reviewed v2.10 on Sep 2, 2008
Feature-rich and quite powerful tool. I use it to throttle my video card speed way down when I'm not playing games to save power and reduce heat. It's tricky to use for a beginner, but the features more than make up for it.
Sativarg reviewed v2.09 on Apr 30, 2008
RE:Reviewer: horsecharles
If you are not accustomed to guru3d.com it can seem daunting to actually download the file. Especially if after clicking the "Download Now" link you do not see the frame marked:
home » downloads » RivaTuner v2.09
In which you must click "I Agree" at the bottom. In my browser the frame is below the bottom of the window when I have Clipfolio open as a TopBar.

Please, horsecharles, consider amending your vote as it is not the fault of the product that the site is not user friendly.
durden500 reviewed v2.08 on Mar 10, 2008
This is for "horsecharles." First of all, it's free! But still, free without function wouldn't merit a 5. The good news is though, (and maybe horsecharles doesn't read the news?), this product has great functionality and continues to grow for the better. You can not only overclock and or just check the clocks speed of the core/memory/shader, you can also adjust the fan speeds too! Also, lots of other tweeks inside this great product. I find it strange that no one else had all your problems downloading this...Hmmm.