File Details

File Size
1.3 MB
License
Freeware
Operating System
Windows 7/8/10/Vista/XP
Date Added
July 26, 2023
Total Downloads
17,983
Publisher
Pete Batard/Akeo
Homepage
Rufus
Publisher's Description
Rufus is a small utility that helps format and create bootable USB flash drives, such as USB keys/pendrives, memory sticks, etc. It can be especially useful for cases where: you need to create USB installation media from bootable ISOs (Windows, Linux, UEFI, etc.); you need to work on a system that doesn't have an OS installed; you need to flash a BIOS or other firmware from DOS; and you want to run a low-level utility.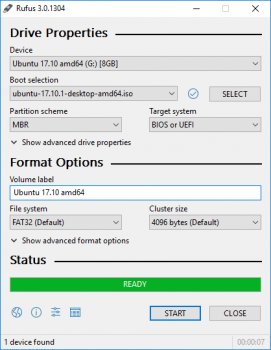 View Full-size
Latest Reviews
some guy reviewed v4.2 Beta on Jul 14, 2023
the best usb creation installation software hands down amazing stuff!
aszure reviewed v3.15 on Aug 3, 2021
Excellent program. Been using it for years. So reliable.
Fasilend reviewed v3.10 on May 27, 2020
Excellent tool.

if you don't know how to create a bootable drive using rufus follow the steps in the following article I found on google.

https://fasilodream.blog...te-windows-10-uefi.html
Picasso reviewed v2.15 on May 16, 2017
It's great again!!!
Picasso reviewed v2.13 on Apr 8, 2017
Rufus is wonderful program but version 2.13 has a serious bug.
Picasso reviewed v2.11.995 on Sep 10, 2016
This is a wonderful and extremely useful tool. Thanks to the developer!
some guy reviewed v2.1 on Mar 24, 2015
fantastic tool if you want 1 operating system on a flash drive. Wish it would support more then one like YUMI does
nilst2006 reviewed v1.4.10 on Aug 23, 2014
Great tool !
dcardinale reviewed v1.4.7 Build 454 Beta on Apr 19, 2014
very slick and full featured!Thank you for this excellent tool!
plasticpig72 reviewed v1.4.4 Beta on Feb 19, 2014
Simply brilliant. So easy to use.