File Details

File Size
13.8 MB
License
Shareware
Operating System
Windows 2000/9x/Server 2003/XP
Date Added
April 6, 2010
Total Downloads
25,538
Publisher
Webyog
Homepage
SQLyog
Other Versions
Publisher's Description
SQLyog is a fast, compact Win32 Front End for MySQL. Execute multiple queries, export data in CSV, HTML & XML. Import from textfile. Export data and schema itself. Flush hosts/logs, etc. Diagnose your databases and much more.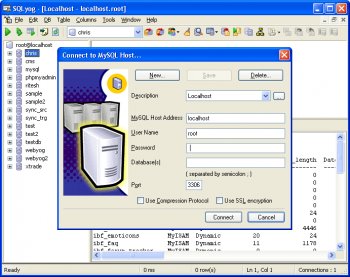 View Full-size
Latest Reviews
NotSoSkilledUser reviewed v8.2 RC2 on Feb 23, 2010
Da best of da best.
periklo reviewed v8.14 on Aug 20, 2009
@frodo888
This is not freeware version.

Excellent program.
martindigg reviewed v8.04 Beta on Mar 19, 2009
@skapig, Good catch. I saw that the Issue with auto-formating has been fixed in the latest build. http://www.webyog.com/bl...eta-1-has-been-released/
skapig reviewed v8.03 Beta on Feb 28, 2009
The changelogs get posted to their blog:
http://www.webyog.com/blog/
skapig reviewed v8.02 RC on Feb 20, 2009
Features:
* Both SQLyog and SJA will now detect if Base64 encoding is required for HTTP-tunnel.

Funtionality changed:
* CHUNK setting (for exports) now also has effect for non-HTTP-tunneled connections. Using this option is required if it takes more time to retrieve data from a table than server 'net_write_timeout' setting.
* SQLyog will now not reconnect if connection is lost during imports. Instead an error message will prompt (the reason for this is that session variables defined on top of the script would be reset to server defaults with reconnection. As a result (and most important) special characters could garble and other errors could occur as well)..
* When trying to INSERT or UPDATE spatial data types from the DATA/RESULT tab SQLyog will now throw an error. Spatial data must be handled from the editor (but a result set from a table with spatial columns can be updated from RESULT tab if there are no spatial columns in the result).

Pretty nice software (even if the free version has nags). However, my major gripe which continues to be ignored is that the text in the query editor does not match what is saved to the file system when auto-formatting is in use (example: caps). This is appallingly bad design and extremely obnoxious.
Aegis69 reviewed v7.15 RC on Dec 19, 2008
frodo888, dude, once again it comes down to diminishing returns. Yes the full version of SQLyog has more features, but for common day to day tasks no one should have to spend money to manage an open source database.

The freeware/nagware version of this program just sucks and is actually inferior to Heidi.
frodo888 reviewed v7.14 Beta on Dec 2, 2008
@Aegis69
Heidi SQL is a low feature database package. You can't compare both products. If you compare it, Heidi SQL will lose...
Aegis69 reviewed v7.12 on Oct 30, 2008
HeidiSQL kicks this programs butt, is 100% free and open source and NO NAGS! RC4 is out, works great.

http://www.heidisql.com/...ewtopic.php?p=2761#2761
riden reviewed v7.1 on Sep 19, 2008
They add more and more notifications about upgrading to enterprise version. At 7.1 there is such notification when I close program. Unfortunately, I'm searching alternative now :(
brusco reviewed v6.55 RC on May 7, 2008
@incisor

You're comparing this to heidisql? Did you even compare the feature lists? Are you a complete n00b?

This has 10 times the power of heidisql. There is NO comparison.