File Details

File Size
2.6 MB
License
Freeware
Operating System
Windows 2000/Vista/XP
Date Added
November 20, 2010
Total Downloads
50,937
Publisher
Steamcore
Homepage
Screamer Radio
Publisher's Description
Screamer Radio is a simple to use Internet radio player and recorder. Supported stream formats include Shoutcast/Icecast (mp3 and ogg) and Windows Media Audio.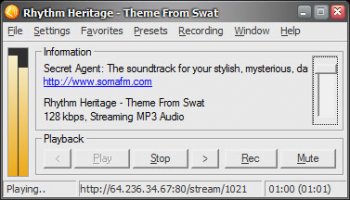 View Full-size
Latest Reviews
mikebray reviewed v0.4.4 on Mar 12, 2014
alright
paulperry reviewed v0.4.4 on Aug 24, 2013
4 stars
durcas.traushun reviewed v0.4.4 on Sep 9, 2012
http://www.surfmusic.de/...radio-manila,11791.html
or
http://tunein.com/radio/Love-Radio-907-s110966/
is IDLING as always ...

Singapore radio stations are IDLING..
Philippines radio station are IDLING..

Screamer Radio can you please add http://www.loveradio.com.ph/ pretty please ...
asaenz reviewed v0.4.4 on Sep 6, 2012
Still works for me EXCEPT in Windows 8 but I'm using early pre-release version and final might be different. Runs fine for 30 or so minutes but usually by an hour it has frozen or repeats a small segment of the incoming stream and I have to shut it down and rerun it so I wind up missing a segment of a 4 hour program if I leave it alone. To keep up with modern times needs to be tested under Win 8 and debugged. Meanwhile I'm using another product under Win 8 although I prefer to use Screamer R..
GadgetPig reviewed v0.4.4 (20100924) Beta on Sep 27, 2010
As a basic streaming and recording program it works well, just a couple things:

a.) when you first start the player, make sure to go top menu>recording>begin recording and make sure it is checked OFF.
For some reason it was already enabled when I downloaded the portable version. YMMV of course.

b.) As was mentioned before, the gui could use updating, maybe add vista/win7 taskbar controls (as windows media player classic already does) or basic skinning support.

c.) Regarding radio presets, there are times when stations fail to load "gives up" (as the radio station may have changed iURL or network ports), so you need to manually edit or add stations occasionally. For example under the "salsa" genre, there are 10 listed, but only one "sky FM" actually works. YMMV of course.
aszure reviewed v0.4.4 (20100924) Beta on Sep 26, 2010
I have toyed with this program for years. It does what it is advertised to do, plays internet radio streams, and does it quite well. I find that there's a very small memory footprint, and doesn't take up your desktop.

The interface is a bit weak. All the functionality is there, however, I wouldn't mind seeing some degree of skinning and maybe a mini-view when it's playing in the background. It reminds me of a media player from 1998.

One thing I will say is that it gives one of the most thorough listing of radio stations of the other media player programs. I believe the lists are compiled from the shoutcast yp, icecast yp, and then personal submissions from users on their forum. All my favorites are there, and tons more to choose from.

That all being said, it's great. Works excellent. Just could use a face lift.
smaragdus reviewed v0.4.4 (20100924) Beta on Sep 26, 2010
Good, but I prefer this one - Radio Sure - http://www.radiosure.com/
anomoly reviewed v0.4.4 (20100924) Beta on Sep 25, 2010
Unfortunately this comes with lots of presets from all over that simply don't work and even if you know the proper url, it is impossible to correct it's internal list.
If you want a simple gui to record a simple stream, look no further.
The fact it's presets are such a mess is what turns me off completely.
It's like looking to buy a car with a convertible top, and getting it home and finding out you bought a lunchtruck.
asaenz reviewed v0.4.3 on Jul 13, 2010
I use it almost daily and it works well for me.
philosopher_dog reviewed v0.4.3 on Oct 17, 2008
Just use xmplay for radio streaming. I haven't found anything close, certainly not SR.