File Details

File Size
3.4 MB
License
Freeware
Operating System
Windows 2000/Server 2003/Vista/XP
Date Added
March 26, 2020
Total Downloads
17,022
Publisher
Gabriele Ponti
Homepage
Send To Toys
Publisher's Description
Send To Toys is an enhancement of the Send To system menu. "Add to Send To menu" and "Remove from Send To menu" allow you to personalize the Send To system menu for drives, folders, and programs. Send To "Clipboard (as name)" copies the name of the file or files to the clipboard. Send To "Command Prompt" opens a DOS console window, setting the current directory to the selected folder. Send To "Favorites" adds a shortcut to your Favorites list. Send To "Folder..." sends a file or files to another folder, you will be shown a dialog box that lets you choose where the files should be copied. Send To "Run..." sends a file or files to the Run command dialog.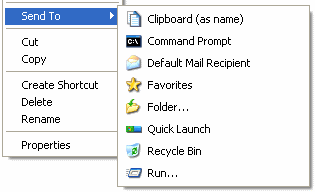 View Full-size
Latest Reviews
sweathog reviewed v2.72 on Mar 29, 2020
@CyberDoc999 correctly points out the uselessness of this program. I have 14 items in my custom sendto folder and none of them are similar to the ones offered by this program. You would be much better served using the freeware apps Open++ and or SendToA3X . As I said before, populating your Sendto folder with useful apps is not rocket science. paste "shell:sendto" in the run command box or the title bar of Windows Explorer and create your own shortcuts.
Pkshadow reviewed v2.72 on Mar 28, 2020
DIY : Open File Explorer --> Copy Paste : shell:sendto to the Address Bar or
C:\Users\\AppData\Roaming\Microsoft\Windows\SendTo
Create Shortcuts and drop them into the folder.
CyberDoc999 reviewed v2.61 on Apr 28, 2011
all of the places you do not want to send to
sweathog reviewed v2.61 Beta on Sep 7, 2010
UPDATE: FileMenuTools is a way more flexible and configurable tool:
http://www.lopesoft.com/en/index.html
That said, @HT1, I stand by my review. Virtually every function of Send To Toys can be done with freeware apps and placing shortcuts in the sendto menu. I have a dozen functions in my sendto menu, including apps that ID the silent install command of a setup file; send items to the clipboard or command line, email something, copy the path or folder directory structure and a really nice SendToXasShortcut.vbs script by Bill James that can create a shortcut in the startmenu, startupmenu, desktop and , yes, even the sendto folder itself. Like I said, go to either of these freeware sites for better alternatives: http://www.autoitscript....dex.php?showtopic=33427
HT1 reviewed v2.61 Beta on Sep 5, 2010
sweathog needs to try it before he opens his big mouth. its clear he has no clue what this does.

i've been using send to toys for years and trust me, for everything this program does, you can't have people just make a shortcut to them.

i love this program and will continue to use it for a long time, i haven't found anything better. 5 stars.
sweathog reviewed v2.6 Beta on Apr 9, 2010
What a waste; just type: %APPDATA%\Microsoft\Windows\SendTo and add your own toys to the menu? Alternatively, Cmenu or SendToA3X are much better choices although they don't have fancy icons.
RWW reviewed v2.6 Beta on Apr 8, 2010
I have used Context Magic for a long time and have seen nothing better. I'm sure this is fine but I have not seen any reason or features to make me change.
jshurst reviewed v2.5 on Feb 12, 2007
Cool "toy." Very useful.
Prospero424 reviewed v2.5 on Feb 11, 2007
Wow. Very neat stuff and can be a big productivity booster.

No, it's not the same thing as TweakUI, which only lets you customize a single "SendTo" folder.

As always: try before you review, folks.
crea7or reviewed v2.5 on Feb 11, 2007
Same at Microsoft Tweak UI tools?
http://www.microsoft.com...ertoys/xppowertoys.mspx

why?