File Details

File Size
48.4 MB
License
Freeware
Operating System
Windows 7/8/10/Vista/XP
Date Added
September 8, 2020
Total Downloads
28,472
Publisher
FlashPeak, Inc
Homepage
SlimBrowser
Other Versions
Publisher's Description
SlimBrowser is a fast and secure internet browser for Windows fully loaded with powerful features. It starts up quickly and opens web pages right in front of you with minimum delay. It is designed to let you browse the Internet carefree by guarding your personal information and protecting your privacy. SlimBrowser offers various functions and options so that you can go where you want and get whatever from you want from the Internet with as few clicks as possible and as little distraction as possible.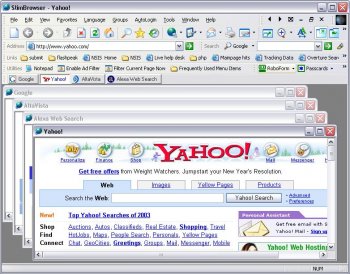 View Full-size
Latest Reviews
Sven123456789 reviewed v7.00.105 on Aug 27, 2014
Interface is good. has adblock which is a major plus. But I had allot of problems inporting my bookmarks from Seamonkey or Firefox. So I have to dock this a couple notches for that..
lehenryjr reviewed v7.00.105 on Aug 26, 2014
I don't use Internet Explorer, but when I have to or when I'm forced to, I choose this interface.
kentfoo reviewed v7.00.029 on May 17, 2013
Powerful and Versatile
diifii reviewed v7.00.029 on May 17, 2013
The best browser
bobad reviewed v4.12.026 on Mar 24, 2010
Likes:

Tool bars and icons, conventional menus, Win7 theme compatibility, decent popup filtering, spell check (but see dislikes)

Dislikes:

When opening a new group, it doesn't automatically close the current group (like FF and Maxthon do), nags you about Roboform, Most sites appear with very large fonts (Fileforum for 1) and I have to reduce the font size every visit. No search aliases (search bar is totally lame), Some menus are terribly long, and things are hard to find. Spell check requires a downloaded plugin, no inline spell check, no context spell check (you have to go to the top tool bar to activate it).

I'm being charitable giving it 2 stars. Don't waste your time.
DakotaSunRunner reviewed v4.12.025 on Mar 8, 2010
This is a rally nice browser and it is not so full of junk to slow it down like other browsers. Works well, have had absolutely no problems with it at all. It is fast and has allot of what anyone needs. I often wonder with some of these browsers that brag about this and that, just how much is too much and how many plugins do you actually need and use to make it what you want. I suspect no matter what any browser maker does, some would not be pleased anyway.

Anyway, this is a very nice alternative and works well. Take some getting use too, but then, with anything it does.
LakotaElf reviewed v4.12.025 on Mar 8, 2010
Very nice browser. I have been using it for a few days now with no issues and has most everything anyone actually needs. Has not crashed yet like firefox does on me or freeze up like firefox does, but I like firefox also, so will continue to that too. But slimbrowser is very good and I intend on keeping it,fast, not sluggish at all, and not bloated like some.
Reverb reviewed v4.12 Beta on Jul 6, 2009
I've been using this for about a week and so far am very impressed. This is going to replace Maxthon and Avant for me. Not as feature rich as those two but doesn't crash on me like Maxthon or Avant constantly do. I use K-Meleon CCF primarily but for sites that require IE Slimbrowser is the answer. You can disable Java,Javascript,Flash,cookies and ActiveX on-the-fly, a feature I find indispensible when visiting suspect websites. ActiveX is a favorite method of malware spreaders for drive-by installs.
robmanic44 reviewed v4.12 Beta on Jun 29, 2009
It's because of the excellence of this program that I don't use Firefox. It's extremely fast and very customizible. I'd recommend this to anyone who uses IE 7 as their default browser.
Stingray57 reviewed v4.11 Build 016 on Oct 31, 2008
I wouldn't use IE/Trident engine at all if this program was not available. It has built-in ad blocking, but I'm hoping SB will ad a subscription option to EASYLIST [adblocker] to really enhance this browser.

Mouse gestures; is not as important to me as others. I love this front-end. The aliases and the autologin features are the most valuable to me.