File Details

File Size
8.4 MB
License
Freeware
Operating System
Windows 7/8/10/Vista/XP
Date Added
June 14, 2022
Total Downloads
14,007
Publisher
Piriform Software Ltd.
Homepage
Speccy
Publisher's Description
Speccy is an advanced System Information tool for your PC. What's in your computer? If you're like most of us, you can probably name the processor (Intel or AMD, Celeron or Pentium), maybe how much RAM it has, and maybe how big the hard drive is. When you go to a computer store and see all the bright shiny PCs laid out next to each other, most will have tags or stickers indicating the: Processor brand and model, Hard drive size and speed, Amount of memory (RAM), Graphics card, and Operating system. Two or three years later, when it comes time to upgrade your computer, that tag or sticker may be long gone. Speccy was designed as a free electronic "what's inside" sticker for your PC.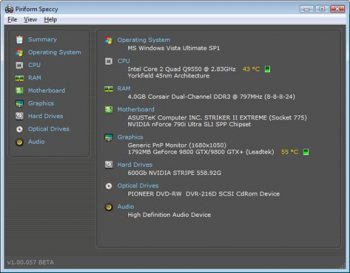 View Full-size
Latest Reviews
barrytbutler reviewed v1.25.674 on Jan 29, 2014
4 stars for this baby
bopb99 reviewed v1.20.446 on Jan 22, 2013
Very useful problem.
Used it a few tmes.

Suburb quality.
Used it to identify hardware and hardware specifications.

Highly recommended for anyone who wants to know a bit more about their setup.
TC17 reviewed v1.19.411 on Dec 4, 2012
Very nice, FREE program. Unlike the ripoff prices some other similar programs charge. Yes it still can use more features, but it gets 5 stars from me for being free.
Mirage_Etoile reviewed v1.16.317 on Mar 5, 2012
Nice interface but it could look better as options .
Let's see .
jdlstewart reviewed v1.11.256 on Jun 7, 2011
Agree with rk05. HP dv6 laptop running XP SP3 hangs. Uninstalled until they get it fixed.
RWW reviewed v1.11.256 on Jun 7, 2011
I don't know how you couldn't like this program. Straight forward, pleasing GUI, does its job.
anomoly reviewed v1.10.248 on Apr 12, 2011
Kindergartner code. No way to disable updating. next
Raton reviewed v1.09.231 on Mar 6, 2011
Worked without glitch on my Dell laptop with 64-bit Vista, including no lock-up when checking the hard drive.

The DataRat
Input Overload reviewed v1.07.205 on Nov 20, 2010
After searching the web to substantiate 'Jtaylor83's' claims the program is 'Super-Spyware' the only two sites that referred to 'Speccy' as 'Spyware' were blocked by both 'Malwarebytes' & 'Eset' simultaneously as 'Malware' sites themselves.

I therefore conclude 'Jtaylor83' is a scaremonger & his/her comments should be ignored.

The program is not mentioned in Installers 'Hall of Shame' (Unwanted add-on's) either - http://www.calendarofupd...vent&event_id=44514

'Speccy' I feel is a good free program & worth having on any system.
djb247365 reviewed v1.07.205 on Nov 19, 2010
Speccy is a really great tool. This tells you everything you need to know about your own computer and it definitely beats having to install multiple programs for multiple pieces of hardware and such. I like it because it gives me a lot of useful information just in case issues start popping up and I have to refer back to it.