File Details

File Size
0.9 MB
License
Freeware
Operating System
Windows 7/8/10/Vista/XP
Date Added
December 1, 2020
Total Downloads
10,632
Publisher
Spotify Ltd.
Homepage
Spotify
Other Versions
Publisher's Description
Spotify is a new way to enjoy music. Simply download and install, before you know it you'll be singing along to the genre, artist or song of your choice. With Spotify you are never far away from the song you want. There are no restrictions in terms of what you can listen to or when. Forget about the hassle of waiting for files to download and fill up your hard drive before you get round to organising them. Spotify is instant, fun and simple.
Because music is social, Spotify allows you to share songs and playlists with friends, and even work together on collaborative playlists, Friday afternoon in the office might never be the same again! We're music lovers like everyone else.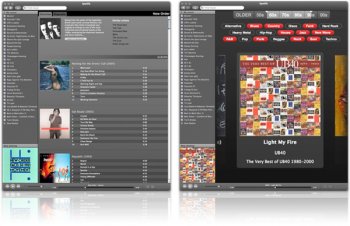 View Full-size
Latest Reviews
Noelsmith reviewed v1.1.47.684 on Sep 20, 2023
great
CyberDoc999 reviewed v1.0.8.59 on Jul 3, 2015
if you like the ad's
Music4Ever reviewed v1.0.3.101 on Apr 15, 2015
The latest re-write is atrocious, there is near on a thousand pages on the Spotify forums of users who dislike the latest version - Several wanted features have been removed with vague promises they will be included at a later date - Many users have downgraded (upgraded?) to a pre 1.0 version so they can continue to use it - Apart from features being removed the latest version uses far more memory, & isn't as configurable, there is virtually nothing to like about it.

https://community.spotif...-Linux-Mac-and/bd-p/001
GadgetPig reviewed v1.0.0.1093 Beta on Mar 5, 2015
Nice software that makes it incredibly easy to find/browse music/albums you'd normally not listen to,or simply forgotten. To find a custom playlist from a specific USERNAME you simply use a syntax in the Spotify search field:

spotify:user:USERNAME

NOTES:

Linux DEB package available for Ubuntu/Debian based distros:
https://www.spotify.com/us/download/previews/

Linux RPM package available for Fedora based distros:
http://negativo17.org/spotify-client/

Unfortunately Spotify Windows client DID NOT run properly under WINE last time I tested.
GadgetPig reviewed v0.9.8.296 on Apr 11, 2014
Love this program! Looks a lot like Songbird, a discontinued media player not long ago. Makes it incredibly easy to find and browse music/albums you'd normally not listen to. To find a custom playlist from a specific USERNAME you simply use a syntax in the Spotify search field:

spotify:user:USERNAME

One minor bug,when you browse an artist's' album, sometimes it's non responsive or doesn't go back immediately when you hit the "back" button;waiting a few more seconds and it will respond to go back. Pretty solid and stable for me on Windows 8.1,no crashes and running for hours.
Music4Ever reviewed v0.9.8.217 on Feb 21, 2014
It's time this program was in final, there are no noticeable changes with each release apart from some improved stability (it had plenty of room to improve here) - Spotify uses ridiculous amounts of RAM within 2 minutes of launching it was using well in excess of 300 MEG & the program still terminates when it wants to - It seems the developers pay no attention to it's users in it's own forum.

Only using this desktop version can you specify HQ streaming which still is only equivalent to MP3 360 Bitrate but on most apps you get what they give you which is 128 MP3 equivalent, not good enough for £10 a month ($16.68).
Music4Ever reviewed v0.9.4.178 on Oct 4, 2013
Still unstable & prone to crashing, the program will actually close totally whenever it bloody well wants too - It really is about time this was sorted esp. as I pay for the privilege of using it - Also with updates few or no new features/options are added as 'mentallo666' says options to the interface are long overdue.

Hopefully there will be some decent competition for the likes of Spotify & use on more than one device simultaneously as single use is ridiculous for the cost - Spotify try to defend this using licensing restrictions as the reason - Rubbish!
Music4Ever reviewed v0.9.4.169 on Sep 23, 2013
I use the premium account, the problem I had with the previous version was the program would often crash when adding songs to a playlist, here is hoping they have fixed that annoying bug - Another than that, it's excellent - Can't speak for the free version as I don't use it ~
tomkelly reviewed v0.9.1 on Aug 22, 2013
spotify is ok
mentallo666 reviewed v0.6.2.0 on Oct 6, 2011
Are they ever gonna add an option to increase font size in this app? Its killing my eyes trying to read anything on my 21in monitor. Horrible