File Details

File Size
33.8 MB
License
Freeware
Operating System
Windows 7/8/10/Vista/XP
Date Added
June 19, 2023
Total Downloads
7,753
Publisher
Lamantine Software
Homepage
Sticky Password
Other Versions
Publisher's Description
Sticky Password automatically fills login and password fields in web forms and usual dialog windows. It has an unique feature named "Sticky Button" which appears on any window that had password saved for. Careful backup feature will keep all your passwords safely stored until you will need them. Also Sticky Password allows to have multiple logins and passwords for a single account and there are many other useful features.
A Premium version is available for $19.99 per year. It includes additional features such as cloud sync, cloud backup, local Wi-Fi sync, and support.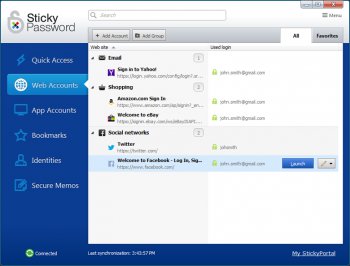 View Full-size
Latest Reviews
Tech 011 reviewed v8.6.4.1448 on May 26, 2023
Sticky Password is a password manager which fills in passwords, has an Sticky Button feature for easy access, offers backup capabilities and supports multiple logins and provides additional functions. Although a premium version of the software comes with more advanced features that require a fee for subscription it offers ease of use and protection for passwords.
cyberguy reviewed v8.1.0.97 Beta on Oct 26, 2017
It works ok, if not a little too well. I found it fighting with me to input passwords, aggressively storing passwords I inadvertently changed or posting a page before I was ready. Messed up a few sites on me like that. I wasn't amused.

It gets a 3 from me due to its over aggressiveness and poor browser support.
CyberDoc999 reviewed v8.0.4.33 on Jun 3, 2015
Last Pass is better and free
UPieper reviewed v8.0.0.48 on Dec 11, 2014
Nice...if you've registered a previous version then installing V8 will convert into a lifetime license :-)
niknetpc reviewed v7.0.3.30 on Dec 12, 2013
Nice new color GUI, but.. very slow and bloated, earlier versions much faster. Users of previous version 6 need purchase new license to continue use Sticky Password..
Zkoumidlo reviewed v7.0.3.30 on Dec 2, 2013
I am using free app Sticky Password in my smartphone and it is really great. I recomend it. You can download it at google play.
asaenz reviewed v6.0 on Sep 20, 2012
"Free" version limited. Other alternatives seems easier to use.
anomoly reviewed v5.0.3 on Jul 1, 2011
Not free
Sticky Password FREE is limited to 15 password accounts and 1 Identity.
UPieper reviewed v5.0.2.199 on Feb 15, 2011
Cyberguy,

see here:

http://www.stickypasswor...78b775c8180a426deb6923e
cyberguy reviewed v5.0.2.199 on Feb 14, 2011
Inability to import data from Roboform 7.2, even though it appears to offer a means to do so, kept me from taking this program seriously. No matter how many times I try I could not get it to accept data from Roboform even though I followed all directions to the letter.

It looks like it could be a very good program for this task, but as I have hundreds of accounts being managed by Roboform, the inability to import this data severely limits Sticky Password's usefulness for me.

I give it a 3 for usefulness as long as you don't need to import from their competitor's products. It loses 2 stars for being at release 5 without being able to do import this data successfully.

I am not sure if the Sticky Password developers look on this site, but I might suggest import from CSV or Excel as well.