File Details

File Size
4.6 MB
License
Open Source
Operating System
Windows 7/8/10/Vista/XP
Date Added
August 14, 2016
Total Downloads
18,030
Publisher
Krzysztof Kowalczyk
Homepage
Sumatra PDF
Other Versions
Publisher's Description
Sumatra PDF is a slim, free, open-source PDF viewer for Windows. Portable out of the box.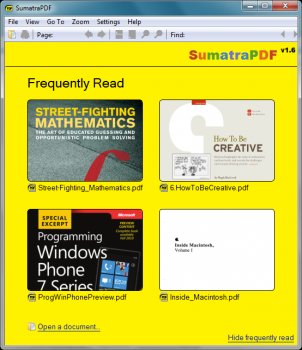 View Full-size
Latest Reviews
Zootopia3001 reviewed v3.1.2 on Aug 16, 2016
May be the most useless PDF reader for today's PDFs out there, and overall far too simple. May be OK for some who just need a very minor basic PDF reader. Given other third party readers are gaining in bloat I just went back to Adobe Reader(15.x) with auto-update enabled.
Aegis69 reviewed v3.1.10150 Pre-Release on May 22, 2015
Why bright yellow...?
lookmann reviewed v3.1.10150 Pre-Release on May 21, 2015
Tried a previous alpha. none too good. Happy with a stable version. beats DRM restrictions. 4 stars.
CyberDoc999 reviewed v3.0 on Oct 22, 2014
the only pdf reader you will ever need .... perfect
egg83 reviewed v2.5.1 on May 8, 2014
Works very well, my new favorite PDF reader!
Music4Ever reviewed v2.4 on Oct 2, 2013
Great program, small & light on resources & does all that most people need, but they end up with the bloated lumbering Adobe reader.
some guy reviewed v2.3 on May 22, 2013
light weight non bloat !
bogbasic reviewed v2.2.1 on Apr 23, 2013
I wanted a little pdf reader that doesn't nag every day about downloading updates and security fixes which take hours to install. No such probs with this and you can't get much leaner. Epic work - keep it up.
Zoroaster reviewed v2.2.1 on Apr 11, 2013
Just what I was looking for : a pdf reader, simple and fast.
Music4Ever reviewed v2.1 on May 4, 2012
Great program, does all I ask ~