File Details

File Size
45.1 MB
License
Freeware
Operating System
Windows 7/8/10/Vista/XP
Date Added
May 3, 2023
Total Downloads
18,930
Publisher
TeamViewer
Homepage
TeamViewer
Publisher's Description
TeamViewer is a simple and fast solution for remote control, desktop sharing and file transfer that works behind any firewall and NAT proxy. To connect to another computer just run TeamViewer on both machines without the need of an installation procedure. With the first start automatic partner IDs are generated on both computers. Enter your partner's ID into TeamViewer and the connection is established immediately.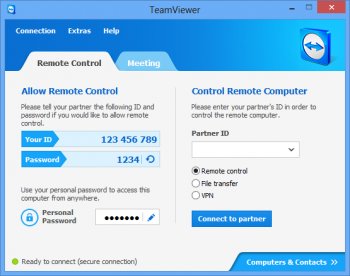 View Full-size
Latest Reviews
Filerman reviewed v13.1.1548 on Mar 25, 2018
Review and Remind:

1) Go and visit >
2) Add the extension
3) Gather referrals.

Also visit > to get some more info.
CyberDoc999 reviewed v13.0.3057 Beta on Oct 31, 2017
It is the best but they charge too much for a subscription
ron_marz reviewed v11.0.56083 on Mar 10, 2016
The functionality and effortlessness of this program are unmatched; I'd been using it as a KVM for my home network for years, and it "just works." (and very well, I might add). But with version 11 they've introduced a timeout disconnecting my machines from one another every three hours, forcing regular re-logons. Until that's removed, TeamViewer -- otherwise a perfect program -- is only worth a "2" in my book.
Enlightenment reviewed v10.0.36897 on Dec 19, 2014
I would give this 6 stars if I could.

Excellent software to remote help family and friends!

If I ever have to use remote software at work, I'll pay for this.
westor reviewed v10.0.35436 Beta on Nov 14, 2014
Teamviewer is one of the most useful and best software.
scf reviewed v10.0.35436 Beta on Nov 14, 2014
teamviewer gets 4 stars for sure!
some guy reviewed v9.0.26297 on Feb 19, 2014
If their was a beta news award for top product this would be in my top 5 choices !
plasticpig72 reviewed v9.0.26297 on Feb 19, 2014
I have to agree 100% with barrytbutler. Excellent software and system. Used it for a number of months not one single issue. Lots of useful extras compared to others. I cannot recommend it highly enough.
barrytbutler reviewed v9.0.24848 on Jan 29, 2014
so good. anyone who tells you otherwise is full of it, no doubt.
HeilNizar reviewed v9.0.24322 on Dec 4, 2013
@-Lord-,
Or you don't know what portable is, or you never tested their official (so called portable) version.

-Writing to registry isn't portable.
-Writing to AppData isn't portable.
-Not saving app settings in app folder (including credentials) isn't portable.

Luckily some guy (bless him) is releasing proper portable version of it regularly.

Wonderful app otherwise.