File Details

File Size
6.4 MB
License
Freeware
Operating System
Windows (All)
Date Added
May 23, 2021
Total Downloads
55,465
Publisher
TGF
Homepage
The GodFather
Publisher's Description
The GodFather is here to put order to chaos and put you in control. No more strange file names and endless search for "that song." Rename, update tags, restructure files on hard disk, create/merge play lists, encode-decode with LAME/Ogg Vorbis/MpcEnc, export/import to/from file, play, use freedb.org and allmusic.com with ease of use and perfect results every time.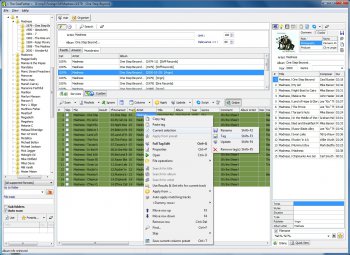 View Full-size
Latest Reviews
stephenstud reviewed v0.87 on Jan 1, 2014
I'm not sure if it was just my system, but when I installed the beta or the version before my system froze when the app started.
GrailKnight reviewed v0.81 on Aug 24, 2012
@@Plumber
Perhaps you should try again or at least read the Help File seeing how Godfather is too difficult for you to use.

Nice to see a new version and it is working fine.
Blackholesun reviewed v0.81 Beta 2 on Nov 21, 2011
Simply the best tools for tagging. So easy to use
I think mp3tag is so overrated compared to this.
Plumber reviewed v0.80 on Oct 19, 2010
Upon installing and launching:

"Provider cannot be found. It may not be properly installed."

Uh... WTH are you talking about? Nothing in the log. No details provided anywhere.

And when I navigate in the tree, not a single file appears in the right pane.

Nice stuff.

Typical high-rated freeware.
And| reviewed v0.80 on Oct 19, 2010
IT IS BACK! The best application for manipulating ID3 tags, titles and so forth.
TuxmanXP reviewed v0.80 on Oct 19, 2010
Good to see that the second ;-) best tagging application is alive and kicking. Good job again!
ghammer reviewed v0.80 Beta on Sep 13, 2010
A welcome return!
This was and is my favoite tool for tagging audio files.
Give it a try, be aware that it is a beta after many years of absense.
4122 reviewed v0.72 Beta on Oct 1, 2009
While this version is just now being added to BetaNews it's actually a very old version. I'm going to rate this a 5 as it was the top of its field at the time of its release, but time has marched on and The Godfather doesn't handle some of the newer tags.

Like arjesus I had to move on to mp3tag because development stopped on this program, but I didn't go willingly. If The Godfather hadn't stopped development I'd still be using it to this day.

R.I.P.
arjesus reviewed v0.72 Beta on Oct 1, 2009
i used this program long time ago, back in 2007 and it was awesome, i dunno why they paused the project.. what made me go for another app.. so i find mp3tag
EsquireX reviewed v0.71 Beta 2 on Jan 30, 2008
I gave this a four only because it didn't support what I was looking to convert from... wav files. Everything else is quite good.