File Details

File Size
89.6 MB
License
Freeware
Operating System
Windows 7/8/10/Vista/XP
Date Added
September 27, 2023
Total Downloads
102,476
Publisher
Tor Project
Homepage
Tor Browser
Other Versions
Publisher's Description
Tor is free software and an open network that helps you defend against traffic analysis, a form of network surveillance that threatens personal freedom and privacy, confidential business activities and relationships, and state security.
The Tor network is a group of volunteer-operated servers that allows people to improve their privacy and security on the Internet. Tor's users employ this network by connecting through a series of virtual tunnels rather than making a direct connection, thus allowing both organizations and individuals to share information over public networks without compromising their privacy. Along the same line, Tor is an effective censorship circumvention tool, allowing its users to reach otherwise blocked destinations or content. Tor can also be used as a building block for software developers to create new communication tools with built-in privacy features.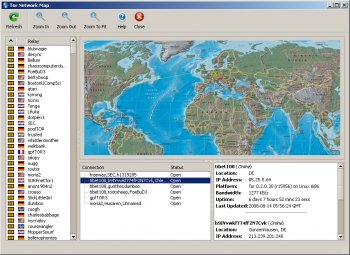 View Full-size
Latest Reviews
Tech 011 reviewed v12.5 Alpha 6 on May 29, 2023
Thats great
Greenlal reviewed v12.0.2 on Jan 20, 2023
Tor Browser is currently available on Windows, Linux and macOS. There is a version of Tor Browser for Android and The Guardian Project also provides the Orbot app to route other apps on your Android device over the Tor network.
straxjulia reviewed v12.0 Final on Dec 12, 2022
Tor Browser is a very good browser if you want to hide on the internet. I used it many times no one can identify you. It provides many features like VPN and security while surfing the internet.
natsuotakeda reviewed v12.0 Alpha 3 on Oct 5, 2022
I love this app when you need to keep your anonymity. Everything is very convenient and clear
SharonKing reviewed v10.5.2 on Jul 14, 2021
Tor is beneficial for everyone who prefers to continue their online activity out the eyes of marketers, Providers, and sites. This involves those getting around censorship rules within the nation, persons trying to mask their Ip, or anybody else who doesn't even want personal surfing habits connected to them

While you are using a VPN in combination with Tor Users get all of the privacy and security needed to prevent snoops, hackers, ISPs, and government monitoring.

Connect your IP address and you'll connect to any region VPN server like UK etc which encrypts your connection.
The application is subsequently forwarded to the destination by at least three relays.
KaithlynMoore reviewed v10.0.8 on Jan 18, 2021
Before using tor I used VPN to browse safely but now too easy for me.
williamharvey07 reviewed v9.0 Alpha 1 on May 28, 2019
Good browser for surfing deep web contents.You can also read this blog for more details https://hackercombat.com...how-to-use-tor-dark-web/
UnlimitedPowar reviewed v8.0 Alpha 2 on Mar 21, 2018
Good, free, but could be better
ethansm reviewed v6.5 on Jan 31, 2017
I've used tor browser for about a month and been pretty satisfied. But it does not protect the network from traffic analysis. That's exactly why I've decided to subscribe for a vpn service. But I've faced with a problem consisting in the necessiity to pay for a decent service. According to many reviews, there is no reliable free vpns (https://www.bestvpnratin...n-providers-make-profit). Have you ever use such services for free? Are they so worthless as declared?
VincyJ reviewed v5.5.5 on May 17, 2016
Tor is not safe and secure at all. It started as a Government project developed for the Navy. Government monitors everything on Tor. I would suggest you to use Hide My IP VPN instead, safe service and with a low cost also...