Publisher's Description
Trend Micro RootkitBuster is a rootkit scanner that offers ability to scan for hidden files, registry entries, processes, drivers and hooked system service. It also includes the cleaning capability for hidden files and registry entries.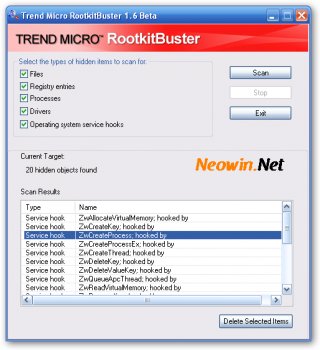 View Full-size
Latest Reviews
CyberDoc999 reviewed v5.0.1180 on Feb 18, 2015
Trend Micro has the lowest rate of detection of all programs
johnusa reviewed v5.0.1129 on May 6, 2013
This is the x86 verson and it will not run in x64 Windows 7.
Get the x64 version from here:
http://downloadcenter.tr...egs=NABU&lang_loc=1

Also, my scan ran for just 2 seconds and indicated that my system is not infected.
Unsure of the speed and scan quality, therefore I just gave it 3 stars.
To be fair, this software may deserve 5 stars if it truly scans a system in lightning speed AND thoroughly.
Knife70 reviewed v3.60.1016 on Jan 11, 2011
On my WinXP.sp3 i have started it, it has installed a driver and asked me for a reboot.

I rebooted, and.... bang... BSoD on 'tm.sys'.

I had to remove this driver into safe mode from my "\system32\drivers" folder.

A very disappointing experience. :(
CyberDoc999 reviewed v3.60.1016 on Jan 6, 2011
crap
TomWibbaert reviewed v3.60.1016 on Jan 5, 2011
I score any bas**** company that is pre-installed on systems a big fat ZERO.
People should NOT pay an extra price for crap software, they should be able to have a choice ! And then we didn't even talk about how ustable your system gets after """uninstalling""" this bunch of big-corp crapware.
wjf152 reviewed v3.60.1016 on Jan 5, 2011
I'm on Win xp this scans and picks up 31 items requiring a restart to complete deletion but doesnt delete anything , so whats it supposed to do ?
Uniquitous reviewed v2.80.1077 on Dec 1, 2009
no x64 version, fail.
Pkshadow reviewed v2.80.1077 on Dec 1, 2009
It works.
It does not do a very in-depth scan but thats what it is designed for.
Runs fast, no install though have not looked through registry yet for a hook.

I would say this is another program to have on your portable USB tool kit drive for those ooh, ooh moments!

Nothing beats a back-up program a virtual disk or a sand box program so you never need to run this program.
A 4 rating as it does not do a in-depth scan as per Mcafee Stinger but it does do what it is supposed to do.
leofelix reviewed v1.6.1060 on Apr 15, 2008
Hi all
never heard about the latest version of Trend Micro Rookit Buster 2.2.1014?:)
It's improved, very fast scanning it removes MBR rookit too.
Skyfrog reviewed v1.6.1060 on Dec 23, 2007
Can't install it, gives the error "cannot initialize the API". Uh, ok...