File Details

File Size
2.5 MB
License
Open Source
Operating System
Linux, Mac, Windows 7/Vista/XP
Date Added
May 29, 2014
Total Downloads
18,128
Publisher
TrueCrypt Foundation
Homepage
TrueCrypt
Publisher's Description
TrueCrypt can create a virtual encrypted disk within a file and mount it as a real disk, or an entire hard disk partition or a device, such as USB memory stick, floppy disk, etc. This software provides two levels of security: a hidden volume (more information may be found here), and a volume cannot be identified (no part of the volume can be distinguished from random data). It utilizes the following encryption algorithms: AES (256-bit key), Blowfish (448-bit key), CAST5 (128-bit key), Serpent (256-bit key), Triple DES, and Twofish (256-bit key), and also supports cascading (e.g., AES-Serpent-Twofish). It is based on Encryption for the Masses (E4M) 2.02a, conceived in 1997.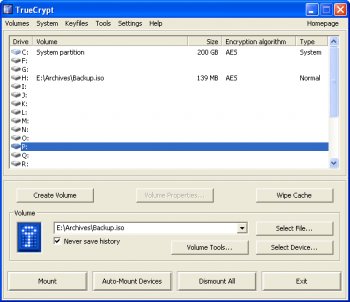 View Full-size
Latest Reviews
coolticker reviewed v7.2 on May 29, 2014
Don't download this 7.2 version !!!! it do not allow to create encrypted volumes anymore since Truecrypt is a dead project, it's only there for people to access already created volumes and migrate them to some other encryption solution.

All older version has been removed from the web site.
arossetti reviewed v7.2 on May 29, 2014
The project was suddenly pulled yesterday. See Brian Krebs article for more information: http://krebsonsecurity.c...truecrypt-is-not-secure/
uberfly reviewed v7.1a on Nov 11, 2013
TrueCrypt is almost irreplaceable to me, but awe crap... is it a dead project now?
Landsnes reviewed v7.1a on Apr 27, 2012
Very good software!

This is a must have program for people who need file encryption. Easy to use and very powerful.

However, to my own great surprise, this is NOT open source software. Despite sincere and continuous effort from the open source community to help TrueCrypt's developers change their license agreement terms to comply with a free software license, the TrueCrypt license agreement is still NOT compatible with any free software license, and the program is for that reason part of Fedora's Forbidden Software list.

However, this is a legal definition issue, and does not /necessarily/ affect the end-user to a degree as negative as suggested.

The license agreement can be found here:
http://www.truecrypt.org/legal/license

More info and argumentation can be found here:
http://lists.freedesktop...008-October/000276.html
Uriel reviewed v7.1a on Feb 8, 2012
This software is good. As a matter of fact, it was in the news a couple of months back where the group Anonymous downloaded private email from a law official where they were discussing ways that they might be able to defeat TrueCrypt. This tells how good it is. It works on both my Windows and Linux machines. Sorry but Apple is spyware in a restrictive box that I vow with an oath not to purchase due to whom they support and persecute in the copyright wars but I imagine that it works well in that environment too.
brotherS reviewed v7.1 on Nov 17, 2011
I can just second what most folks say... great piece of software! Never lost any data, very stable, never crashes.
VelvetElvis reviewed v7.1 on Sep 4, 2011
A must-have if you value your privacy. I wouldn't own a laptop that didn't have TrueCrypt installed on it. An excellent example of great open source software.
Uriel reviewed v7.1 on Sep 3, 2011
I couldn't give this open source app enough stars. Awsome!
ghammer reviewed v7.0a on Sep 7, 2010
Excellent for its purpose.
However, always wait for the 'a' version.
fatar reviewed v7.0 on Aug 16, 2010
Badly designed user interface, and requires ADMINISTRATOR RIGHTS if you want to use it from a USB drive