File Details

File Size
3.8 MB
License
Shareware, $19.95
Operating System
Windows 7/8/10/Server 2003/Vista/XP
Date Added
April 16, 2020
Total Downloads
6,967
Publisher
CrystalIdea Software
Homepage
Uninstall Tool
Publisher's Description
Uninstall Tool is a small and fast utility that helps you to uninstall various software. It can be used instead of the standard unconvenient and heavy "Add and Remove Programs". The program has lots of features and options mising in Microsoft's applet.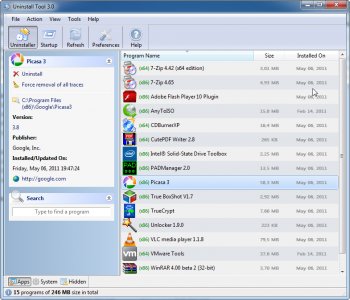 View Full-size
Latest Reviews
Panya reviewed v3.3.2 on Jan 20, 2014
I just moved to Uninstall Tool and am enjoying the increased speed over competitors and the new monitoring of programs while installing.
Recon reviewed v3.3.2 on Dec 17, 2013
Most worse customer care. I purchased a license as Version 3 was in a late Beta. I never installed or used Version 2. Between I moved to another place and wasn't have internet. The beta version 3 did an update to final version 3 and my purchased key did not more work. I asked for a free updated key as I already payed before for v2 (didn't know that time that it will not work with final v3, it worked with late beta 3). The customer service wanted another time money from me but I disagreed to pay again. It was the biggest wast of money by software buying I ever did. Even if lost key they charge money. There are better uninstaller out with better support and some are even for free.
BANDIT- reviewed v3.3.0 Build 5305 on Apr 23, 2013
C O M E - O N..!! Get a Grip..lol
It's 2013 on Earth. Save $20 bucks
vvvvvvvvvvvvvvvvv
IObit Uninstaller
V2.4 | 1.49 MB
#Portable #Freeware
"Powerful Scan" and "Forced Uninstall"
h**p://www.iobit.com/advanceduninstaller.html
asaenz reviewed v3.0 on Nov 15, 2011
You won't be able to fully test it out (in other words you won't know if it removed everything installed) because the trial version does everything up to but not including the uninstall ... you have to pay to do that. I don't know why they didn't just make it a fully functional trial version for 'nn' number of days. Interface and wording was not clear to me but there was a little help. Seems like an adjunct to normal installation rather than a program to monitor the whole installation process and then later use it to fully uninstall the application without user having to go through a separate uninstall process. DON'T expect trial version to uninstall anything traced with U.T..

Would be nice if it would ask user if they want to have program monitor all installations automatically and activate a small program in memory if user replies in the affirmative. Could also serve as a secondary form of malware control if some malware attempts to install. Should also prompt user whether to allow tracer to remain active until program being installed is run at least once for a minute or so and then exited.
Betanoob reviewed v3.0 on Nov 14, 2011
Useless junk. Why do n00bs waste money on this crap?
coolticker reviewed v2.9.6 Build 5102 on Mar 12, 2010
Nice tool, do what it says but... why pay for such tool when you have NirSoft uninstaller or Safarp that do the same job for free in less than 100KB portable tool ?
antigin reviewed v2.4 on Jul 7, 2008
Without doubt the best app uninstaller. 20 bucks is the only minus. Already updated to 2.5.
darthbeads reviewed v2.4 on May 22, 2008
1 point off for being far inferior to the free version, and another point off for being far inferior to Revo Uninstaller:

http://fileforum.betanew...ninstaller/1180616005/1
vitali_m reviewed v2.2 on Apr 9, 2007
Amazing!!!
New version is really cool and works great.
PS. The old version is really slow and buggy...
stisev reviewed v2.2 on Apr 9, 2007
Don't pay for this program!

Go get version 1.6.6 (when it was free) from here:
http://www.goldfiles.com/portal.php?fileid=382

Here's why:
1) It's free (vs $20)
2) It has a cleaner, minimalistic interface
3) It saves options to options.xml vs the newer version 2.2
4) It's free!

There are some drawbacks to v1.6.6
1) It's SLOW! Compared to v.2.2, it's much much slower
2) It doesn't highlight new programs

If only the author would make v2.2's interface the same as 1.6.6 and drop the price a little, I'd buy it in a heartbeat!