File Details

File Size
102.5 MB
License
Freeware
Operating System
Windows (All)
Date Added
October 25, 2022
Total Downloads
107,255
Publisher
Oracle
Homepage
VirtualBox
Other Versions
Publisher's Description
VirtualBox is a general-purpose full virtualizer for x86 hardware. Targeted at server, desktop and embedded use, it is now the only professional-quality virtualization solution that is also Open Source Software.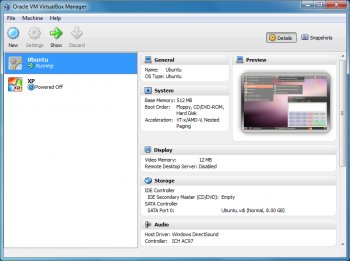 View Full-size
Latest Reviews
tskarp reviewed v6.1.38-153438 on Sep 10, 2022
The virtual box guest doesnt boot when you have allready connect u linux usb device (maybe its a guest addittion version problem)
lylejk reviewed v6.0.4-128413 on Jan 31, 2019
If you haven't upgraded from 5.2x version, and you use a 32-bit Guest, I recommend you wait until these bugs are addressed. My bet is soon they will be like all the bugs from 5.x versions have, but still, time will tell. :)
Aegis69 reviewed v5.2.10-122406 on Apr 30, 2018
Oracle hasnt screwed this up... yet
asaenz reviewed v5.2.8-121009 on Mar 6, 2018
Has been a couple of years since I used and as an impulse decided to download a new executable and try it and so far it ran an old file I retained on my disk and is functioning well ... will update after evaluating for a few more weeks/months. Revised my rating to 4 until further testing.
Picasso reviewed v5.1.6-110634 on Sep 14, 2016
The best!
marty reviewed v5.0.18-106667 on Apr 19, 2016
Now works on all Windows Insider Preview Builds. Great program.
uberfly reviewed v5.0.16-105871 on Mar 8, 2016
Solid. I've been using this as test platforms daily for many years without any issues worth noting. Continues to get better.
asaenz reviewed v5.0.12-104815 on Jan 5, 2016
I'd give it a 3.5 if I could because it is "free" ... my main problem is every now and then it gets "disconnected" from the VM file and although I've been working with computers as a tool since early 80s I still find it difficult to get the VM file that I've worked with for months to function again and it's usually just easier to start a new one which is disappointing because I lose all the programs and settings ... for all practical purposes it was like a hard disk crash and lose everything.
lylejk reviewed v5.0.2-102096 on Aug 16, 2015
Huge fan of VB. Been using it for years. Upgraded recently to Win10 and talk about headaches. Even the current version of VB (10.0.2) has issues so did what was recommended and stuck with the beta (5.0.1r102010) and it's pretty stable (VB doesn't crash Win10 anymore after waking Win10 from Hibernation or sleep; sound now works in guests as well which is cool too). I'll wait until the official release of one that states it's Win10 compatible before installling it. Still giving VB 5 stars; well deserved. Just grateful for the fixes that the VB team (and M$ too for that matter) has done to fix the issues that at least works for me now. :)
war59312 reviewed v5.0.0.101271 RC2 on Jul 2, 2015
Would be nice if they would fix the "known 3rd party issues" already.

Would love to be able to use again. Not giving up my Comodo and I need network bridging.

So this version gets a 0. Recommand old buids of you run any sort of security app.