File Details

File Size
0.1 MB
License
Freeware
Operating System
Windows (All)
Date Added
September 12, 2022
Total Downloads
9,694
Publisher
NirSoft
Homepage
Volumouse
Publisher's Description
Volumouse provides you a quick and easy way to control the sound volume on your system - simply by rolling the wheel of your wheel mouse. It allows you to define a set of rules for determining when the wheel will be used for changing the sound volume. When the conditions that you define are not satisfied, your mouse wheel will be used for the regular scrolling tasks exactly as before.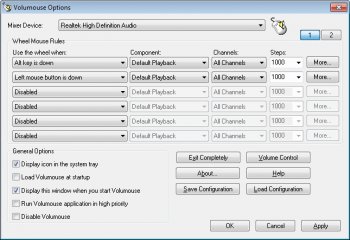 View Full-size
Latest Reviews
stisev reviewed v1.72 on Mar 23, 2011
2.0 beta is out! Holy crap and it's got new great features!

5 STAR!!!
genivf reviewed v1.72 on Nov 3, 2010
Amazing program. It works just like it is supposed to and once you try it, you will miss it a lot if you go to a computer without it. Such a simple concept and something that could and should have been added to the OS long ago. Nirsoft is great as always.
cltx99 reviewed v1.71 on Jul 31, 2009
A really nifty program. I have it on all of my computers. Time saving and very simple to use. Joco is just a negative lad.
gate1975mlm reviewed v1.54 on Jun 26, 2008
Great little tool!

My Backlit Deck keyboard does not have Volume control but it does now thanks to Volumouse! :)

Working great on Vista.

http://www.deckkeyboards.com/
Joco reviewed v1.54 on May 1, 2008
I have no use of this utility as I have many other ways to control the sound volume. Spinning the volume knob of the speaker or hitting -/+ volume buttons on the KB is good enough for me. I give 5, because NirSoft does indeed offer a lot of useful utilities.
Nighted reviewed v1.53 on Dec 24, 2007
It's not pretty to look at but it's so damn useful that I can't NOT use it! It's all the ways you can interact with your volume that make this program so great. Too bad other developers don't get it. There isn't another site on the net that offers as many useful little apps as NirSoft.
stisev reviewed v1.53 on Dec 2, 2007
If I could have intimate tangible sex with this program, I would.

Yes, it's THAT good.
anomoly reviewed v1.51 on Aug 27, 2007
I swear by this. Now it has a visual volume percentage in the gui.
I do have a remote control for the speakers but usually am not too far from it unless I'm watching a movie.
toastmeister reviewed v1.31 on Jul 4, 2007
Very nice!
stisev reviewed v1.31 on Apr 11, 2007
For more awesome software like this, visit NirSoft!

http://www.nirsoft.net/

This company freakin' rules!